Tom Jane Confirms That He's Vying For Jonah Hex. Rad.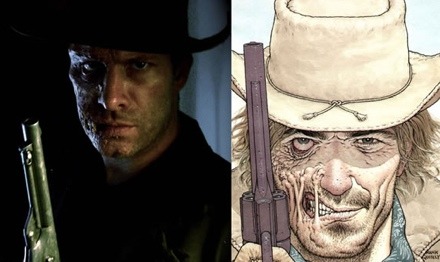 Our friends at Film School Rejects just received word personally from Tom Jane regarding the origins of the artwork above and his (non-)involvement in the DC Comics adaptation Jonah Hex...
"Yeah, the pic is real all right – my pal [writer/producer] Akiva Goldsman told me about the project and I fell in love with the idea right away. Being a huge fan of all things Hex – I just couldn't help myself. I called up my buddy Chris Nelson and we spent a Saturday afternoon working up some make-up for this impromptu shoot and I fired a few pics off to Warners. How do people get a hold of this s***? It's a little embarrassing seeing my fanboy enthusiasm spilled all over the web, but great scripts don't come around too often, especially for characters I love."
On one hand, it's rather awkward that Hex writer/directors Mark Neveldine and Brian Taylor (Crank, awesomeness) didn't see the above art until it flamed out across the Web. Neveldine even emailed Shock to say he had "no clue" what the art was for. But maybe this will start a dialogue with Jane for the role, who knows? The actor's fallout with the Punisher franchise was unfortunate and I'm always hoping to see him in another role that's as break-out bananas as his Todd in Boogie Nights or his lead in the underrated Stander. This project has definitely moved up as one of my more anticipated comics-to-film. Just imagine: House 2 meets Crank 2. C'mon.
Jonah Hex is a former alcoholic and confederate soldier turned supernatural loner and gunslinger. He received his signature scar at the hands of Indians who placed a hot tomahawk to his face. His mother was a prostitute and his dad sold him into slavery. Total winner. Based on this decade's Vertigo series, Neveldine/Taylor have said they'll focus on the supernatural elements (zombies, et al) and want to build a viable franchise. With Cowboys and Aliens also on the way (possibly with RDJ), we only need one more flick to make Genre Westerns a trend.
Discuss: Would Jane make a good Jonah Hex? Anyone read the script?