FTW: Eddie Murphy's Head Entertains L.A. Commuters. Meet Dave To Out-Suck Love Guru?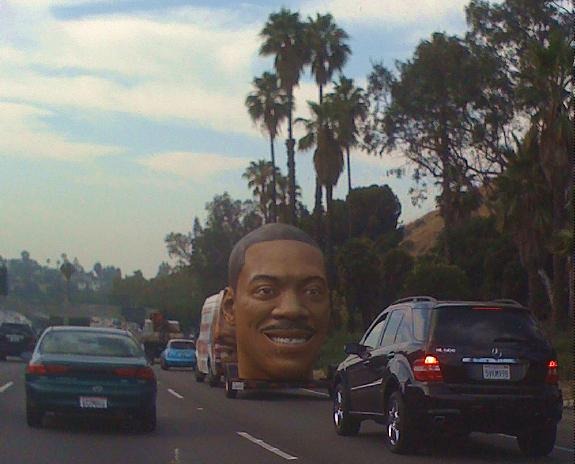 Doc's De Lorean. KITT. Tony Stark's Audi R8. Eddie Murphy's Head. Dream Vehicles. In a Hail Mary for the ages, 20th Century Fox has that thing above cruising around the West Coast in hopes that it will make people pay to see Murphy in next month's mini-alien bonanza, Meet Dave. I saw the trailer for this $100 million movie a couple nights ago while sunburnt/drunk, and convinced myself without any trouble that it was the sequel to The Adventures of Pluto Nash. Potential Epic FAIL brewing: Love Guru, prepare to be the catcher. Sidenote: I'm not a fan of nightmarish car crashes, but the images filling my head right now are worthy of eight Shane Black clones.
A studio rep nicely justified its existence today to an elated Nikki Finke...
"Yeah, but it's a lot cheaper and greener than flying Eddie around on a private jet for a press tour."
Discuss: Meet Dave or Love Guru, which will be the champ at summer's end? Have you honked at Eddie Murphy today? Should they recycle this head for Brett Ratner's Beverly Hills Kindergarten Cop 4? No ego jokes.