Finally, A Lightsaber Wii Video Game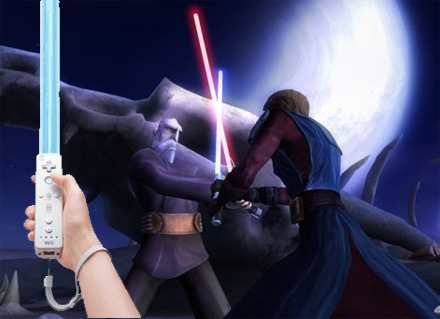 When Nintendo was first announced the Wii, I thought to myself: I can't wait until LucasFilm makes a lightsaber video game. In late 2006, Star Wars fanboys hacked the Wii remote to connect to a computer via bluetooth, giving the Wiimote all the classic Lighsaber sound effects. But the hacked Wiimote was  essentially just one of those Master Replica Lightsabers without the cool light-up blade or hilt. Finally LucasArts has announced that they are releasing Star Wars The Clone Wars: Lightsaber Duels for the Wii. Here is the official description:
Now everyone can experience the fun and excitement of a Lightsaber fight. Star Wars The Clone Wars: Lightsaber Duels immerses you in the characters, locations, and epic duels from the all-new Star Wars animated feature film and TV series. Built from the ground-up for Wii, Lightsaber Duels features an intuitive motion-controlled combat system that puts the Lightsaber weapon in your hand. Mastering the Jedi's distinctive weapon is now within any player's grasp.
• Fight the most memorable duels from The Clone Wars feature film and TV series.
• Wield your Wii Remote like a Lightsaber and experience first-hand the unique weapon of the Jedi knights with intuitive controls, so no matter what your gaming experience you can become a Lightsaber master.
• Play with your friends as your favorite Clone Wars hero or villain – from familiar characters like Anakin Skywalker and General Grievous to new faces like Ahsoka Tano and Asajj Ventress – each with a unique fighting style and set of skills.
• Exploit your interactive surroundings to defeat your opponent: slice down pillars and Force throw them against your foe.
• Duel your way through significant Clone Wars locations, such as Tatooine and Teth.
"Clone Wars for the Wii is all about lightsaber dueling. It's about swinging your Wii remote like a Lightsaber and recreating what we know will be classic Lightsaber battles from the movie and the show," producer Ken Fox told IGN. "We've tried to make the lightsaber control as intuitive and fun as possible. It's not a Lightsaber simulator, but when you swing your Wii remote left to right; your character does the same. You use the thumbstick on the nunchuck to move your character and swing the Wii remote to swing your Lightsaber. The buttons all do cool stuff like use the force, block and dodge, but the focus is really on putting the Wii remote in the players hand and saying 'This is your Lightsaber!'"
The world premiere trailer for the game will debut exclusively on Spike TV's "Game Trailers TV with Geoff Keighley" on Friday, June 20th.