Remembering Stan Winston: Cameron, McG, Favreau, Wright, Darabont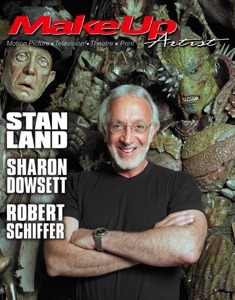 The passing of Stan Winston hit everyone off guard yesterday, including the many people who have worked with the legend over the years.McG has posted a statement on the Terminator Salvation: The Future Begins website, declaring his intention to dedicate the fourth Terminator film to the memory of Stan. Here is an excerpt: "Stan was a good guy who was in it for all the right reasons. He loved what he did. Stan confided in me once, that he created imaginary monsters as a child to keep him company. He said he felt like the only kid in the world who did this. Little did he know his childhood friends would come to be the heroes of millions. You are not alone Stan, the fruit of your imagination will be with us forever."
Hot Fuzz and Shaun of the Dead director Edgar Wright blogged: "A real genius. And a sad loss."
Meanwhile, AICN has done an awesome job of gathering statements from some of the filmmakers who have worked with him over the years. Here are some highlights.
James Cameron: "We've lost a great artist, a man who made a contribution to the cinema of the fantastic that will resound for a long long time. I don't need to list the indelible characters he and his team of artists brought to the screen. Readers of your site know them. We all know Stan's work, the genius of his designs. But not even the fans necessarily know how great he was as a man. I mean a real man — a man who knows that even though your artistic passion can rule your life, you still make time for your family and your friends. He was a good father, and he raised two great kids. His wife of 37 years, Karen, was with him in the beginning, helping him make plaster molds in their garage for low budget gigs on TV movies, and she was with him at the end."Jon Favreau: "He was a giant. I was blessed to have known him. I worked with him on both Zathura and Iron Man. He was experienced and helped guide me while never losing his childlike enthusiasm. He was the king of integrating practical effects with CGI, never losing his relevance in an ever changing industry. I am proud to have worked with him and we were looking forward to future collaborations. I knew that he was struggling, but I had no idea that he would be gone so soon. Hollywood has lost a shining star."Frank Darabont: "One of the blessings of being in movies is when you meet icons whose work you deeply admire and they turn out to be fantastic people. They're the ones you're honored to encounter along the way, the people who are kind and gracious and inspiring in addition to being superbly talented. They exhibit genuine humanity and touch your heart in various ways, and you foolishly figure they'll always be around to get to know better as the years go on. But then they are taken far too soon, and you're left with the deep and lasting regret of not having gotten to know them nearly as well as you'd wanted or expected to. I've met and lost a number of extraordinary people who fall into this category, among them Roddy McDowell, John Frankenheimer, Sidney Pollack, Dave Stevens, and John Alvin. Stan Winston now sadly joins my list."
Read the full letters, including more from Joe Dante, Rick Baker, Monster Squad director Fred Dekker and others on AICN.