Page 2
We may receive a commission on purchases made from links.
Here is a round up of stories that just didn't make the /Film front page, or what we like to call.... Page 2!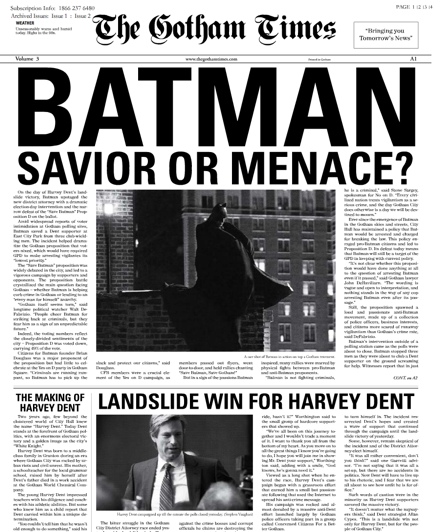 The latest issue of The Gotham Times features two big headlines Batman – Savior or Menace? and Landslide Win for Harvey Dent.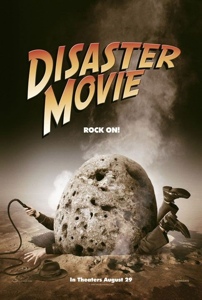 IMPAwards has a third poster for Disaster Movie. This one takes aim at Indiana Jones.
Michael France, screenwriter of Ang Lee's The Hulk reviews The Incredible Hulk: "People were dying to see a movie about the Hulk, to get those big Hulk moments. They weren't dying to see a movie about the Hulk's father," France said. "I'm not sure that there's really more action, but it feels that way because it's about 25 minutes shorter than (Lee's) film." [tampabay]
WiReD lists the Coolest Movie Metamorphoses, From Wolf Man to Hulk.
Walt Disney Studios Home Entertainment is releasing Kill Bill Volume 1 and Kill Bill Volume 2 on Blu-ray on September 9th. Still no word on the eventually ultimate edition which will combine both parts into one film. [bloody-disgusting]
FirstShowing wonders if The Hulk is destined to become a bad guy in The Avengers movie.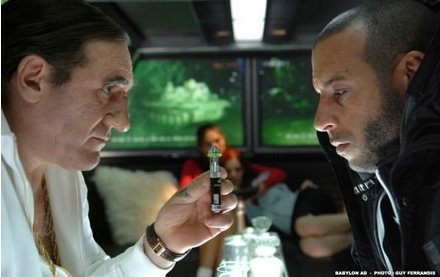 DVD-forum has new photos from Vin Diesel's Bablyon AD.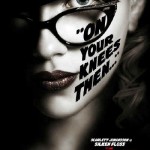 The latest character poster from Frank Miller's The Spirit features Scarlett Johansson as Silken Floss.Spout takes a look at 10 movies that overcame Bad Buzz. Titanic is #1 on the list.
Battlestar Galactica producer Ronald D. Moore tells trekweb that too much continuity ruined Star Trek.
Rejects has a drinking game for M. Night Shyamalan's The Happening.
Pixar has added a graphic artist job listing for what appears at first glance to be Brad Bird's adaptation of 1906: "[Candidate must] research items, timelines, events, people, etc. relevant to the period being covered in film to provide a high level of detail and authenticity." [pixarblog]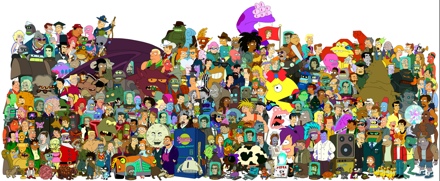 DesignYourTrust has a image which shows everyone who has ever been on Futurama.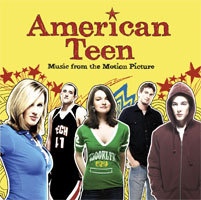 The Playlist has a look at the American Teen soundtrack, which is set to hit store shelves on July 15th. It's a shame that Phantom Planet's Do the Panic (which was featured festival cuts of the film) is not included.
Screenwriter Rita Hsiao, writer of Disney's Mulan and rewriter of Enchanted and 13 Going on 30, has written a big screen adaptation of I Dream of Jeannie. [buzzsugar
Take the "How Many Sequels Were There" Quiz on moneon.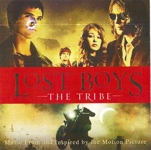 MovieWeb takes a look at the soundtrack for The Lost Boys 2: The Tribe.Firstshowing has a script review of Harold Ramis' Year One: "This movie is definitely going to be funny and it's definitely going to offend some people. Look forward to some religious extremists picketing outside the theater much like they did for Kevin Smith's Dogma. But the Biblical satire is ultimately not the point. It's a script that is clever and witty, but ultimately puts the fate of the film in the hands of the director and the performances of the actors and actresses. Since the cast they have is phenomenal, this movie looks like it could be a classic."Rejects takes a look at the 6 worst things to eat at the movies, and they even have the exact calories and fat details.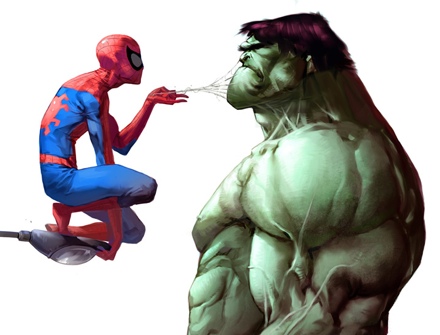 Manarama created this cool piece of art showing a Spider-Man vs. Hulk crossover. [via: Superpunch]The Alamo's Monroeville screening of Dawn of the Dead was canceled.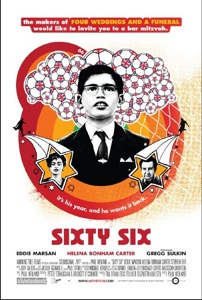 Cinematical has the poster for Paul Weiland's Sixty Six, which stars Eddie Marsan, Helena Bonham Carter and Gregg Sulkin.
DC Comics will be releasing a prequel comic to J.J. Abrams' fall television series Fringe. [usatoday]
Amazon.com now lets you preview each of the 38 tracks on the WALL-E Soundtrack, available June 24. [via: Upcomingpixar]The Movie Blog takes a look at the 10 best castings in Comic Book Movie History. Robert Downey Jr would be my #1.Great White Snark has an geektastic interview with award-winning R2 builder Chris James.
Michael Moore is publishing an Election Guide on August 19th. [THR]
Yahoo takes a look at the top 20 plot twists in movie history.
Jon Voight has signed on as a recurring villain character on the upcoming seventh season of 24. [reuters]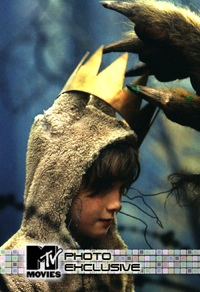 We forgot to run this last week, but MTV has a new image from Where The Wild Things Are from the NY Licensing Expo.
Amanda Peet will play the lead female role in Roland Emmerich's epic disaster film 2012. [THR]
Universal has acquired the film rights to the children's book series Dragonology. [ComingSoon]
I could watch An Evening With Kevin Smith over and over again. Smith's new Q&A stand-up DVD titled KEvin Smith Sold Out, will hit store shelves in mid-October. [newsaskew]
Maxim takes a look at the 25 most watched movies ever.