Attack Of The '80s Sex Romps: My Tutor Being Remade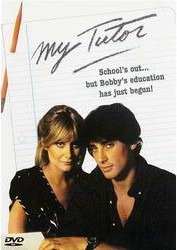 If you care to witness a superb '80s montage of hot girls working out in zany leotards in a movie co-starring Crispin Glover being whipped by a dominatirix, rent My Tutor (not the forthcoming remake). According to the trades, the cult classic/cheesy sex romp from 1983 is being reimagined by Mark A. Altman, the producer of D.O.A. and Uwe Boll's House of the Dead, and screenwriter Steven Kriozere (Pam Anderson's V.I.P.). This movie's going to be not-great just like its dad!
As Cinematical points out, maybe this is the nascent start of a remake avalanche for the beloved D-movie sex romp genre, which includes highlights like Hardbodies, Screwballs, Oddballs, Meatballs (the one with Corey Feldman), Buddy (as seen in Just One of the Guys), Joysticks (personal fave), and later evolved into a bunch of '90s rentals featuring boobs and skiing instructors. Also, American Pie and its litter of sequels. Also, Kal Penn's look of self-medicated astonishment.
The original film was the story of a rich kid with bedroom eyes who didn't care about learning French until his dad, played nicely by Kevin McCarthy, hired a French tutor to help him study poolside. Best tagline ever (on right). This is back when loose leaf notebook paper met hilarious insertion by a No. 2 pencil.
Discuss: Do you have a favorite '80s movie like My Tutor with, optional, "-balls" in the title?