Cool Stuff: Kotobukiya's Hulk Fine Art Statue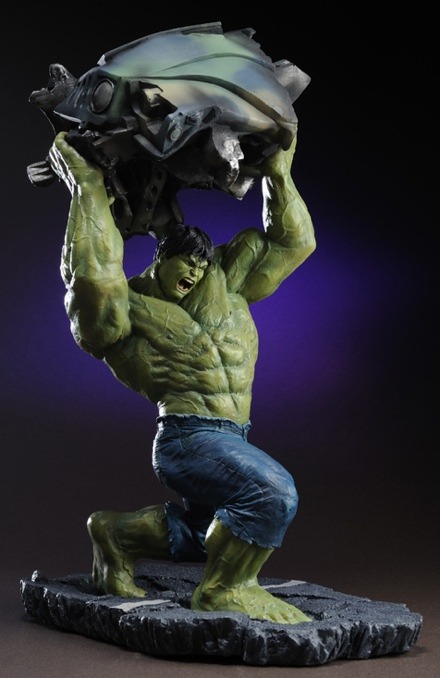 Kotobukiya makes some of the coolest statues. In past edition of Cool Stuff, we've featured Kotobukiya's Dark Knight Batman Vinyl Statue, ArtFX Statue of Iron Man, and the Indiana Jones Raiders and Temple of Doom ArtFX Theatre Statues. The Japanese company has unveiled their latest creation, a Fire Art Statue of The Incredible Hulk.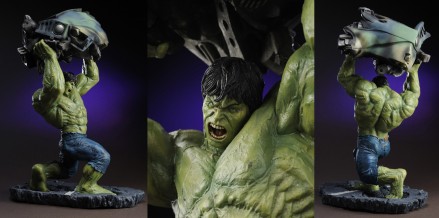 "Shredding a camouflaged military Humvee and hoisting it overhead, the Incredible Hulk stands in the center of the city in final combat with his enemy – the deadly Abomination. The massively proportioned Hulk has been sculpted using reference materials directly from the archives of Marvel Studios to ensure perfect replication of the jade giant. Measuring at a whopping 14 inches tall, the destroyed pavement of the street, the mechanical details of the hummer, and the enlarged veins of the Hulk himself have been faithfully rendered by master artisan Junnosuke Abe."
"Fine Art Statues are the ultimate high-end collectibles, created from cold cast porcelain with ornate features throughout, such as the neon pigment of the enraged Hulk's eyes. Each statue is individually numbered on the bottom of the base as part of a Limited Edition. The serial number is also reflected on the gold-printed outer seal. The base will interlock with the Abomination Fine Art Statue to form a diorama scene – each sold separately – look for more info on the Abomination in the coming months as the collaboration between Marvel Studios and Kotobukiya continues."
Available in January 2009 for a suggested retail price of $175.00.
Cool Stuff is a daily feature of slashfilm.com. Know of any geekarific creations or cool products which should be featured on Cool Stuff? E-Mail us at orfilms@gmail.com.