Spike Lee's Miracle At St. Anna Movie Trailer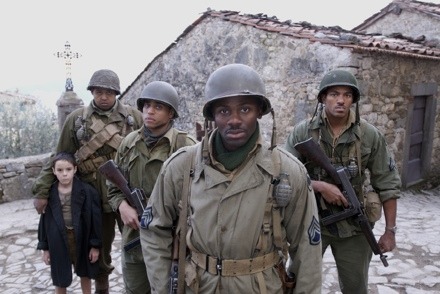 Spike Lee's big screen adaptation of James McBride's Miracle at St. Anna chronicles the story of four black American soldiers of the 92nd Infantry Division who get trapped in a small Tuscan village on the Gothic Line during the Italian Campaign of World War II. The film deals with the Sant'Anna di Stazzema massacre, but is structured with a Titanic/Saving Private Ryan flashback plot device involving a priceless Italian artifact, which is discovered in a murderer's closet. The sculpted head from Ponte Santa Trinita, valued at $5 million, is a clue to a mystery that began 39 years earlier, when the soldiers found themselves trapped behind enemy lines and separated from their unit after one of them risks his life to save an Italian boy.
Miracle at St. Anna stars Derek Luke, Michael Ealy, Laz Alonso, Omar Benson Miller, Matteo Sciabordi, John Leguizamo, and Joseph Gordon Levitt. Judging from the trailer, Spike Lee might be heading for an Oscar nomination with this one. Tell me what you think in the comments below.
[flv:http://bitcast-a.bitgravity.com/slashfilm/trailers/miracleatstanna.flv 470 200]
You can watch the trailer in High Definition on Yahoo. Spike Lee's Miracle at St. Anna will hit theaters on September 26th 2008.