Terminator 4 Teaser Trailer Attached To The Dark Knight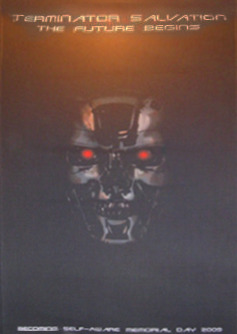 An advance look at a marketing teaser poster for McG's Terminator Salvation: The Future Begins was revealed at the New York Licensing Show. The tagline on the bottom reads "Becoming Self-Aware Memorial Day 2009".
MTV says that the first official teaser poster will hit theaters on July 18th, to coincide with Warner Bros' release of The Dark Knight. Attached to the Batman sequel will be the film's first teaser trailer. The film is only a month into production, so it's likely that the teaser will contain little or no footage from the actual film. And hey, you were going to The Dark Knight anyways, now you have another reason to be excited. And who knows, we might even get a peak at Zack Snyder's Watchmen too (that is, unless they decide to hold off until Comic-Con)Terminator Salvation: The Future Begins hits theaters on May 22nd 2009.