Spielberg/Dreamworks For Dummies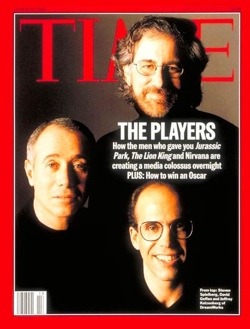 Here is a rundown of all the essential information that you should know about the Spielberg/DreamWorks situation, and the current developments by Steven to raise a billion dollars for independence:
In 1994, Steven Spielberg founded DreamWorks with Jeffrey Katzenberg, and David Geffen (forming the SKG present on the bottom of the DreamWorks logo) and a $500 million investment from Microsoft co-founder Paul Allen.
Over the next fourteen years, Spielberg directed eight films under his new studio (Amistad-Munich), a streak that ended in May 2008 with Indiana Jones and the Kingdom of the Crystal Skull.
DreamWorks won three consecutive best picture Academy Awards starting in 1999 with American Beauty (followed by Gladiator and A Beautiful Mind).
Despite critical acclaim and a bevy of award winning films, DreamWorks came close to bankruptcy twice, primarily due to the failure of two large budget films: Sinbad: Legend of the Seven Seas and The Island.
Spielberg wanted to sell DreamWorks to Universal, a movie studio which he considered home most of his career. In fact, Steven's Amblin offices are still located on the Universal backlot. Parent company G.E. lowered its offer by $100 million, forcing the founders to sell the studio to Viacom, the parent company of Paramount Pictures in February 2006. The deal was valued at approximately $1.6 billion, an amount that included about $400 million in debt assumptions. As part of that agreement, the founders agreed to three-year contracts. DreamWorks Animation, run by Jeffrey Katzenberg, remained an independent company with a deal to have its movies distributed by Paramount until 2012.
Paramount set a new record in July 2007 by becoming the first movie studio to hit $1 billion for the year, an achievement almost entirely due to films from the DreamWorks pipeline. DreamWorks' movies accounted for about two- thirds of Paramount's box office
The founders became increasingly unhappy about their arrangement with Paramount, believing that Viacom was not sufficiently appreciative of their contributions.
Geffen was critical of Viacom and its chief executive, Sumner M. Redstone in a November 2007 Vanity Fair article: "Redstone, he is accustomed to bullying people. And I will not be bullied. There is no fight I will run from. I am absolutely unafraid of Sumner Redstone." ... "It is my job to look out for Steven Spielberg and Jeffrey Katzenberg and our employees and the people we are in business with. I chose to sell this company to Paramount. It has turned out to be a poor choice."
Viacom announced it would not renew DreamWorks' contract. Spielberg's contract runs until 2010, but he possesses the ability to terminate it early at year's end. Chief executive Stacey Snider and chairman David Geffen have similar escape clauses. On May 1st 2008, a window opened up, allowing them to bargain with other studios about taking their services elsewhere.
What's at stake: Spielberg and Geffin don't own the rights to the DreamWorks name, but neither does Paramount. If the duo were to leave,  Katzenberg, who runs DreamWorks Animation, could withdraw rights to the name from Paramount and grant them to Spielberg. The duo no longer hold ownership of their past catalog and current development deals. However, according to THR, "Spielberg's rights regarding involvement on sequels could trigger negotiations over which films he brings with him and which would remain under Par's control." Its also likely that the team would lose most, if not all, of their staff.
On June 10th 2008 Spielberg announced that he hopes to raise more than $1 billion in third-party financing to reinvent DreamWorks as an independent company.
Universal Pictures realizes their mistake in losing their bid for the company to Dreamworks a decade earlier and enters into a bidding war with Paramount, Universal, Disney and Fox for the rights to distribute future DreamWorks movies. Warner Bros has decided to sit this one out.