This Week In DVD - Jumper, The Bucket List, The Signal, And More
This Week in DVD is a new column on /Film compiling all the latest info regarding new DVD releases, sales, and exclusive deals from stores including Target, Best Buy, Circuit City, and Fry's.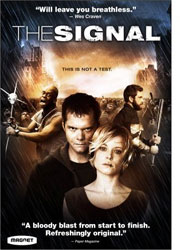 THE SIGNAL
Good horror films are a rarity nowadays, so whenever a notable entry in the genre comes out I like to make sure it gets noticed. The Signal is one such a film. It's a brutal excursion into three very tonally different tales (combining elements of comedy and satire) detailing the takeover of a mysterious transmission that's being sent through every cell phone, radio and TV and is turning people into psychotic killers. Not everyone will be able to look past its problems though (such as the weak ending), as proven by the somewhat mixed audience/critic reaction.
Blu-ray? Yes.
Notable Extras: An audio commentary, an alternate beginning, and deleted scenes.
EXCLUSIVE DEAL:
What? 2-Disc Deluxe Edition
Where? Best Buy
EXCLUSIVE DEAL:
What? Bonus access to behind-the-scenes footage.
Where? Circuit City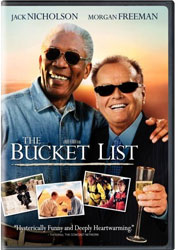 THE BUCKET LIST
Jack Nicholson and Morgan Freeman team up in director Rob Reiner's tale of two dying geezers who head off on a road trip to enjoy all the wild experiences they missed out on when they were young and able. It's said to be schmaltzy, predictable, and not just a little bit manipulative, and yet the film's undeniable charm and two terrific performers manage to supersede any of the film's shortcomings. Think of it as the male equivalent of a chick flick.
Blu-ray? Yes.
Notable Extras: Not much, disappointingly. Just a John Mayer music video and an interview with the film's screenwriter, Justin Zackham.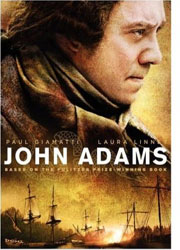 JOHN ADAMS
The acclaimed seven-part HBO mini-series is coming to DVD, giving an inside look at the life of John Adams, which includes everything from the lead-up to the American Revolution to the signing of the Declaration of Independence. And with Paul Giamatti in the role of John Adams, and Laura Linney as his wife Abigail, the film's impressive cast only further propels this insight into U.S. history to greatness.
Blu-ray? No.
Notable Extras: Included on this three-disc set are an interview with David McCullough (the author of the Pulitzer Prize-winning biography on which the series is based), a behind-the-scenes documentary, and an on-screen historical guide for each episode.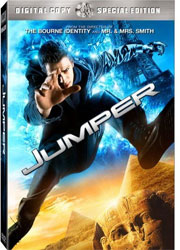 JUMPER
(Available as single-disc and 2-Disc Special Editions)
You'd think an action sci-fi flick exploring teleportation abilities from the director of The Bourne Identity and Mr. and Mrs. Smith would equate to fun times, but alas, Jumper has proven that is not the case. It's an incredibly slapdash effort, with minimal action sequences, cringe-worthy dialogue, and the worst performance you'll ever see from Hayden Christensen (and that's including his work on the Star Wars prequels). Skip it.
Blu-ray? Yes.
Notable Extras: The single disc edition comes with an audio commentary and two making-of featurettes, whereas the 2-Disc Special Edition also holds six deleted scenes, two additional featurettes, an animated graphic novel, and a digital copy of the film for download.
*Does not include 2-Disc Edition, which costs $22.99 at each of the listed stores (excluding Circuit City, where it costs $21.99).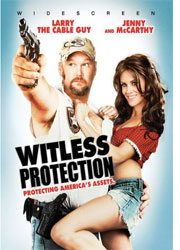 WITLESS PROTECTION
With each progressive Larry the Cable Guy movie, the box office intake seems to be getting lower and lower, so hopefully the end of his worthless career is near. In the meantime, here's his latest shitfest, Witless Protection. You can tell how funny it will be based on that knee-slapper of a pun in the title. Almost as clever as Made of Honor.
Blu-ray? Yes.
Notable Extras: Three featurettes.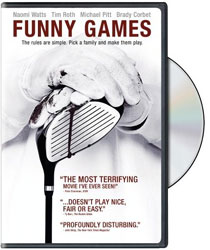 FUNNY GAMES
Michael Haneke's extremely pretentious shot-for-shot remake of his own movie is just as much a middle finger to American audiences as the original film was, except this time you don't need the subtitles on to understand how condescending it is. Outstanding performances from Naomi Watts and the two psychopath characters aside, this film adds up to nothing more than a worthless, miserable two hour torture session against the viewers (and their patience). Haneke would say that's the point, but that doesn't make him any less of an asshole for making it. Twice!
Blu-ray? No.
Notable Extras: None.
Also available this week…
The Other Boleyn Girl â€" High Noon (2-Disc Ultimate Collector's Edition) â€" The Grand â€" The Boondocks (Season 2) â€" The List â€" Home Improvement (Season 8) â€" Soap (The Complete Series) â€" Hawaii Five-0 (Season 4) â€" The Odd Couple (Season 4) â€" Otis â€" 7th Heaven (Season 6) â€" Army Wives (Season 1) â€" American Gangster (Season 2)
What are you planning to rent or buy this week?


Exclusive: Exclusive bonus disc with The Other Boleyn Girl. Deluxe Edition has production notes, exclusive package artwork, and more. $22.99
$10 â€" 300, Knocked Up, Ocean's Thirteen, National Treasure (2-Disc Edition), The Pursuit of Happyness, and more…
$7.50 â€" Batman Begins, Old School, Mr. and Mrs. Smith, and more…

Exclusive: CD audio book included with purchase of The Other Boleyn Girl.
$12.99 â€" Charlie Wilson's War, I Am Legend, Pirates of the Caribbean: At World's End, Across the Universe (2-Disc Deluxe Edition), Superbad (2-Disc Unrated Extended Edition), Spider-Man 3, 3:10 to Yuma, and more…
$6.99 â€" The Departed, Casino Royale (2-Disc Edition), Shooter, Mr. Brooks, Apocalypse Now (The Complete Dossier), Troy (Director's Cut), Zodiac, and more…

Exclusive: 2 free movie tickets to see The Happening with purchase of any 2 of the following $7.99 movies…
$7.99 â€" I, Robot, 28 Days Later, Transporter 2, The Day After Tomorrow, X2, Fantastic Four, Die Hard, Die Hard 2, Die Hard: With A Vengeance, Predator, and more…

$5.99 â€" Kiss Kiss Bang Bang, Matchstick Men, Syriana, Sleepers, and more…
$6.99 â€" The Hitcher, Meet the Parents, American Pie, The Chronicles of Riddick, and more…
$8.99 â€" There's Something About Mary (Collector's Edition), The Transporter, Ice Age: The Meltdown, and more…