Spike Lee's Miracle At St. Anna Movie Poster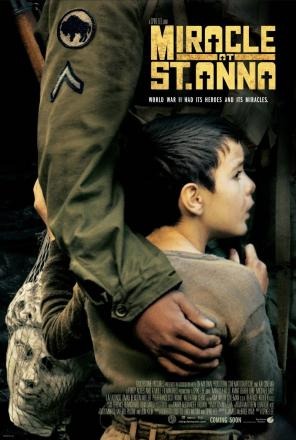 Let's get this out of the way. Both sides of the ongoing press war between Spike "Not a Plantation 2008" Lee and Clint "Shut Your Face" Eastwood are pretty weak and entertaining. A poster for Lee's $45 million World War II film, Miracle at St. Anna, opening this September, has surfaced at Cinematical. The tagline, "World War II had its heroes and its miracles" goes along with the poster's generic feel, but it's just a teaser. No need for a flamewar. Click to pop.
The film follows four black American soldiers in the "Buffalo Soldiers" division who are stationed in Italy and later find themselves stranded behind enemy lines after one of them attempts to save an Italian boy (as seen in the poster). And lookout! D.B. Sweeney, of The Cutting Edge and Strange Luck fame, is co-starring. Curious to see what Lee delivers with this budget, easily his largest.
Discuss: Looking forward to it? Any opinions on the Eastwood "controversy." Remember Posse? Also, FirstShowing has a pretty amazing conspiracy of their own regarding this poster. LOL.