Darko To Serve Beer In Hell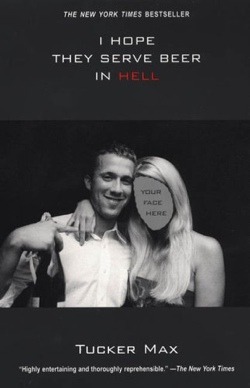 Richard Kelly's Darko Entertainment will produce and finance a big screen adaptation of Tucker Max's bestseller I Hope They Serve Beer in Hell. The book is composed of short stories narrated by the author in gonzo style. The New York Times coined a genre called "fratire" in reference to the book, a response to "chicklit", filled with hyper-masculinity and political incorrectness. Hell has remained on the New York Times bestseller list since its debut in 2006. Simon and Schuster are even scheduled to release a sequel to the book later this year.
So what is it about? Well, the feature film adaptation will be loosely based on The Austin Road Trip story. Tucker and his friends embark on an impromptu trip to celebrate his friend's bachelor party. But when Tucker abandons his buds in pursuit of sex, he ends up being banned from the wedding, and decides to attempt to right his past wrongs.
Tucker explains why they chose Darko over 50+ other movie financiers on his blog:
We went with Darko over everyone else for many reasons, the main one being exactly what I wrote about here: They not only "got" the creative vision behind the movie, but they were basically the only company that, when I talked to them, I didn't feel I was dealing with financiers, I felt I was talking to actual artists. They didn't ask what "bankable" stars I was talking to, they agreed that the movie would be better without a huge name. They didn't "suggest" ways to make it a four quadrant movie, they told me about how they had never quoted lines from a script to each other. They didn't whine about how hard it would be to find a distributor, they talked about all the ways they could help me make the movie even better. I felt like I was talking to guys who really cared about making the best movie possible, and who knew how to do exactly that.
Bob Gosse (Niagara, Niagara) is attached to direct based on a screenplay by Max and Nils Parker. The film is currently casting and is scheduled to begin principal photography in Shreveport, LA, in the beginning of July. They have a $7 Million budget and are aiming for a Spring 2009 release. Read a sample chapter over on Barnes and Noble.
source: Variety