Geek Deals: 20% Off DVD/Blu-Ray At Deep Discount!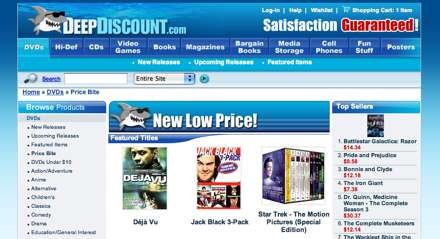 Deep Discount is running their biannual DVD and Blu-ray sale. With the coupon code DDAF you can get 20% off the already lower than low prices (with the exception of pre-orders). Also, posters, Fun Stuff and Storage Units are included in the sale.
To give you an example of the kind of deals you can get, I was able to snag the 20-disc Star Trek Motion Pictures Collection (which includes all 10 movies) for $55.03 with FREE Shipping! You could even grab all four volumes of the James Bond Collection (40 discs, 20 movies) for only $113.60! Criterion Collection DVDs and Blu-ray discs are now affordable! The sale will run through June 22nd 2008. Note: The discount isn't reflected until you enter the coupon code during checkout.