Guy Richie Directing Sherlock Holmes For Warner Bros.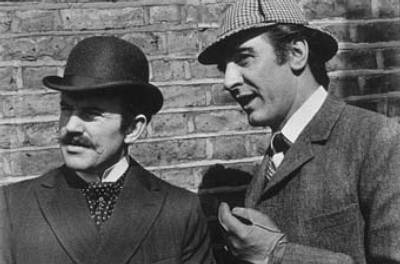 Well, it looks like Guy Ritchie (right) and Joel Silver's Sgt. Rock will have to wait. Ritchie will direct Sherlock Holmes for Warner Bros., an adaptation of producer Lionel Wigram's upcoming comic book. Neil Marshall was previously attached to helm, and WB has said that the film will have the same realism and seriousness as Batman Begins. Mirroring our modern man (yeah, right), this iteration of Holmes will focus more on the character's formidable pugilism, swordsmanship (hello, ladies) and an appetite for, yep, adventure. Dan Lin (The Departed, 10,000 BC, Terminator 4) will co-produce.
Created by Sir Arthur Conan Doyle in the 19th Century, some of the British detective's "Victorian stuffiness" will be nixed for the 2010 film. Whether this means no appearance by Holmes's silly hat, monocled fashion, or his signature pipe was not specified. Dr. John H. Watson will remain Holmes's affable sidekick. Let's hope Watson's not reenvisioned as a bitchin' kite-surfer with an addiction to narcotics Red Bull.
Ritchie is clearly untested when it comes to studio blockbusters, and I wonder how much of his frenetic style will transfer over. But it sounds like a cool project for him and I'm glad it's a Brit in the director's chair. And a cool movie for audiences too, as long as the dizzying sleuth-dom isn't overshadowed by madcap stunts a la a Brosnan Bond or with rapper actors. I've always wanted to see DDL play Holmes (who wouldn't), and I'm really curious to see who lands the two main roles here. Sounds like WB will be "casting up," which always brightens the day at Slashfilm.
Discuss: Who for Holmes? Who for Watson? Do you see Ritchie making a cool film?