Warner Bros. And Peter Segal Doing Jonny Quest? Supermax Now Titled Green Arrow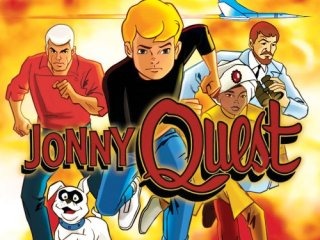 IESB speculates that director Peter Segal, currently attached to helm a Shazam feature for Warner Bros., might also be the man who brings the studio's planned tentpole, Jonny Quest, to the world as well for Summer '09. Apparently the script by Dan Mazeau is quite strong and in better shooting condition than Billy Batson and the Legend of Shazam. Moroever, the site spoke to Segal recently, who was enthusiastic about the latest screenplay, noted his involvement with getting a Quest flick off the ground in the past, and even discussed casting preferences (The Rock for special agent Roger "Race" Bannon). As you might recall, for over a year now Dwayne Johnson has been attached to play Shazam's Black Adam.
At the center of the Jonny Quest franchise is the Hanna-Barbera cartoon, about the titular young boy, his scientist father, his adopted Indian brother, a spastic bulldog, and a snowy haired special agent/bodyguard who hop around the globe pursuing epic cryptozoological and sci-fi adventures. Quest is one of several retro tentpole projects on Hollywood's burner, including Buck Rogers, Spielberg/Jackson's Tintin, the now filming Transformers 2, and another live-action He-Man flick (also buzzing loudly at Warner Bros.). Of course, the recent wipe-out of the similarly cheeky/mothballed Speed Racer is no doubt being taken into consideration when updating Quest.
Also of note: David Goyer's Supermax, which now looks to have broader box office potential after the success of Iron Man, has been retitled Green Arrow. The well-reviewed script, which sees Green Arrow facing off in a high security prison with DC villains like The Riddler, is by Justin Marks, who wrote the aforemenioned He-Man script that's driving the Internet nuts right now.
Discuss: Is Jonny Quest the next Speed Racer or the next Transformers/Harry Potter? Is Segal a smart choice? Could Green Arrow be the next Iron Man?