First Look: The Soloist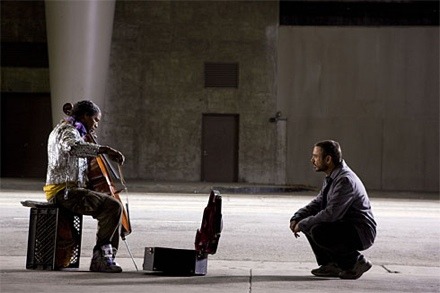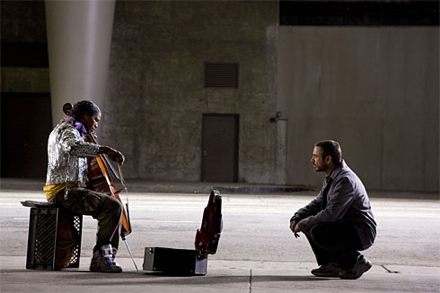 DreamWorks has released a first look at Jamie Foxx and Robert Downey Jr. in The Soloist from today's edition of USA Today. Written by Susannah Grant (Erin Brockovich) and directed by Joe Wright (Atonement), The Soloist tells the true story of Nathaniel Ayers (played by Foxx), a musical prodigy who developed schizophrenia during his second year at Juilliard School. Ayers became homeless, playing the violin and the cello in the streets of downtown Los Angeles. Downey Jr plays Steve Lopez, a columnist for the Los Angeles Times who developed a friendship while writing an article about Ayers. You can read the original newspaper article which became the basis for the story on LATimes.com. Catherine Keener and Stephen Root co-star.
Downey told the paper that while he "loved every part of Iron Man" and is planning to return for the sequel, the "last thing" he wants "is to be seen as that guy, who just does that role." And I agree, as cool as Downey was as Tony Stark, I am hoping he sticks to the more interesting roles rather than the more lucrative ones. And who knows, maybe now that mainstream America has discovered what we've known for decades, maybe they'll take a trip to the local arthouse cinema to see him the smaller films? Nah...
The Soloist is scheduled to hit theaters on November 21st, just i time for Awards season.