Reshoots On Spike Jonze's Where The Wild Things Are To Begin June 5th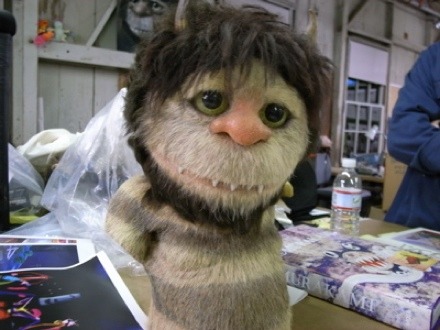 On June 5th, reshoots are scheduled to begin in Los Angeles on Where the Wild Things Are, director Spike Jonze's borderline infamous adaptation of the classic, visceral and delightfully weird children's book by Maurice Sendak. Jonze's mission? Stop the nation's emo kids (and parents) from crying and having vewey scary nightmares.
According to Bloody Disgusting, the reshoots, as ordered by Warner Bros., will continue for the duration of June, and casting calls for stand-ins are apparently happening as well. We recently tried to send out a Slashfilm Scanner to read Spike Jonze's mind at a hip cafe in order to figure out the severity of the reshoots, but alas, the scanner's head exploded all over Kirsten Dunst's tank top/dangling cigarette.
Recently, Jonze's film has received "everything is cool, I'd go see it" endorsements from actor/Wild Thing Tom Noonan and the film's assistant editor James Haygood. Noonan told Cinematical during Cannes that not only was Jonze "perfect" for the job, but that Sendak was very hands-on and candid...
"Maurice Sendak was involved. We'd do these video conferences with him where he'd be like, 'if you can't be children, don't be in the fucking movie.' He'd say, 'I want to see children. I don't know any adults who are able to be children,' and he'd give us these pep talks where he'd say, 'don't do what you always do, do what you've always needed to do."
We'll keep you posted as we learn/hear more. At this point, who knows how this will turn out.