Emily The Strange - The First Movie Adapted From A Sticker?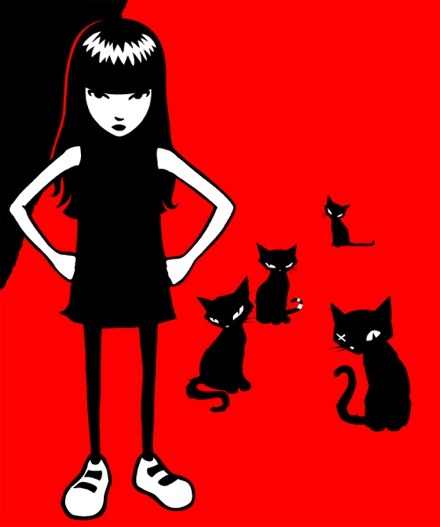 Emily the Strange was created by Santa Cruz skateboarder Rob Reger in the early 1990's to help promote his company Cosmic Debris Etc. Inc. Before becoming a cult counterculture icon, Emily began on a sticker that was passed out for free at concerts, record stores and skate shops to help promote Cosmic Debris. I give you this back story because I think it's very important to establish that Emily The Strange will be the first movie ever to be adapted from a sticker. And I remember a few years back when people thought it was strange that DreamWorks was making a movie out of a line of action figures.
The character is a goth looking 13-year old girl who is usually accompanied by her four black cats: Sabbath – the troublemaker, Nee-Chee – the schemer, Miles – the creative, and Mystery, the leader of the group. The franchise has a considerable merchandising catalog, including clothing, stationery, stickers, and accessories, very popular with the Hot Topic crowd.
Dark Horse Entertainment president Mike Richardson will produce the film, which is currently on the hunt for a director. Richardson says that the filmmaker choice may in turn dictate what format will serve the story best: live-action, animation, or a combination of both. I can't really imagine Emily the Strange as a live-action movie. May-be they could do a mixture using the Sin City approach. The story is said to be based on one of the four Emily the Strange young adult novels, which will be published next year by HarperCollins. Not much is known other than it will offer up some backstory on the character, and will feature her four cats.
The project is also not yet set-up at a studio. Universal, who is producing the comic book company's Hellboy series, has a first-look deal.
source: The Hollywood Reporter