Cool Stuff: Monroeville Zombie Hockey Jerseys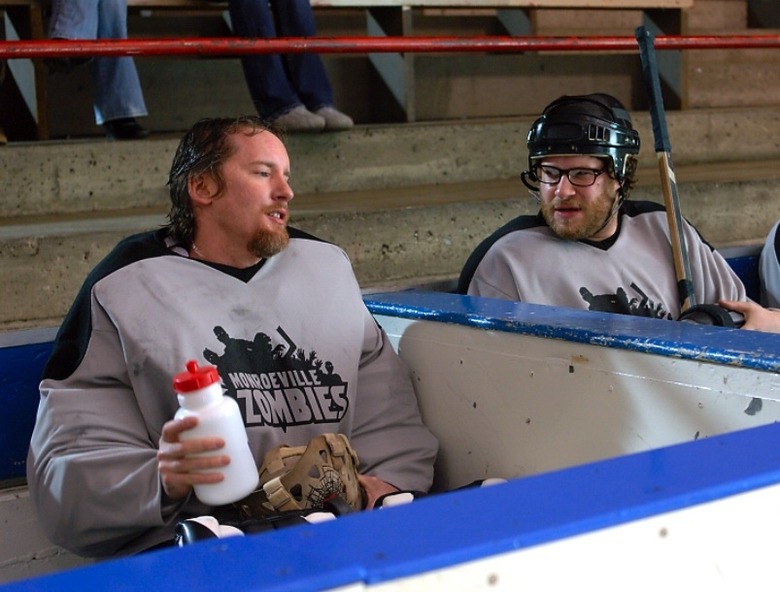 google_ad_client = "pub-8329788691483836"; google_ad_width = 300; google_ad_height = 250; google_ad_format = "300x250_as"; google_ad_type = "text"; //2007-02-24: slashplay google_ad_channel = "4460054747"; google_color_border = "FFFFFF"; google_color_bg = "FFFFFF"; google_color_link = "00AAE0"; google_color_text = "4D4D4C"; google_color_url = "B3B3B3";
// –>The photo above of Jeff Anderson and Seth Rogen comes from Kevin Smith's upcoming comedy Zack and Miri Make a Porno. When the photo was released last month, I commented on the cool Monroeville Zombies hockey jersey, and concluded that it would probably eventually be available to order on Kevin Smith's online store. And now guess what, you can now buy the same style hockey jersey seen on screen during the movie.
This jersey is cool on a bunch of different levels. If you're a fan of George Romero, than you understand the significance of Monroeville. You see, Monroeville is a suburban area about 5-10 miles Northeast of the city of Pittsburgh, PA. Not only was Zack and Miri shot and set in Monroeville, but much of the George A. Romero horror classic Dawn of the Dead was filmed at Monroeville Mall (also a location in Smith's film). So the Hockey Jersey is also a tribute to the area and a homage to Romero.
That said, Jay and Silent Bob's Secret Stash is selling the jerseys for $54.99, sized L to XXXL.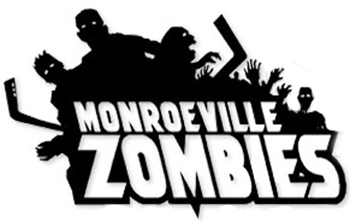 Cool Stuff is a daily feature of slashfilm.com. Know of any geekarific creations or cool products which should be featured on Cool Stuff? E-Mail us at orfilms@gmail.com.