Big Announcement: /Film To Launch /Filmcast - LIVE Show Tonight! 10pm EST - 7pm PST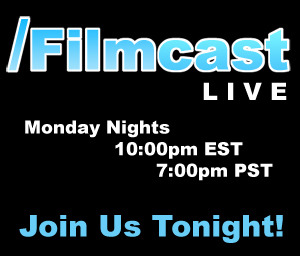 Yes, the rumors are true – We've decided to launch a weekly movie podcast called the /Filmcast. I've hired the best of the best to helm this new weekly show – hardcore geeks/bloggers/journalists David Chen, Devindra Hardawar, and Adam Quigley (formerly of The Watchers podcast) will debate, pontificate, and delve into the latest films, film news, television shows, and entertainment-related items from the past week every Monday Night LIVE on SlashFilm.com. They will be joined each week bloggers, webmaster luminaries, movie stars and filmmakers from all walks of life. I'll also be on the show from time to time to add my own two cents.
So please join us live tonight for Episode #1 where our hosts will be joined by Dave3 from The Geeks of Doom and Peter Sciretta from /Film (wait, did I just refer to myself in third person?) to talk about Indiana Jones and the Kingdom of the Crystal Skull. The show begins at 10:00pm Eastern time / 7:00pm Pacific time, right here on slashfilm.com.