Cool Stuff: 25th Anniversary Return Of The Jedi Villain-Style Poster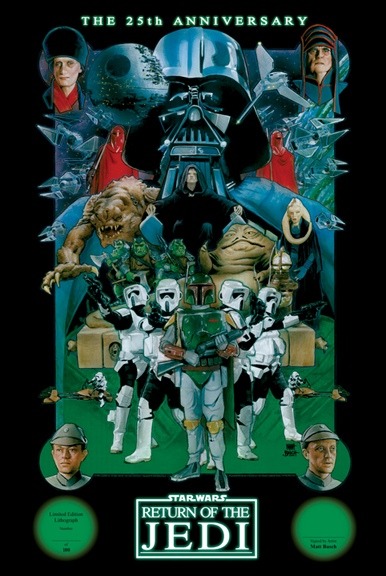 It's the 25th Anniversary of Star Wars – Return of the Jedi. To celebrate, Matt Busch, Lucasfilm, The 501st Great Lakes Garrison, and Paul Michael Kane have teamed up to produce this beautiful poster commemorating all of the villains from Return of the Jedi. The best part is, all of the proceeds will go to the National Lymphoma Society in honor of Jay Shimko, Great Lakes 501st member TK-130, who is actually a lymphoma survivor.
Lucasfilm has graciously authorized this limited edition poster, which completes the Original Trilogy set of villain-style posters that Matt Busch has produced for the films' anniversaries over the years (pictured below). And before you ask, no, they are no longer available. I'm kicking myself for not knowing about the New Hope and Empire posters when they were available (anyone know where I could get them, email me).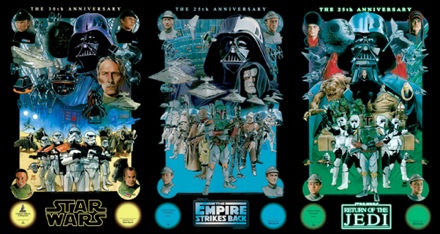 The standard poster size measures 24" X 36" and is printed on thick 100 lb. stock with a deluxe aqueous coating. The price of this poster is $50, but don't forget that this is extremely rare and that you'll be contributing to a wonderful cause. There are only 100 signed and numbered copies
of the poster available. Buy now on MattBusch.com.