Quid Pro Quo Movie Trailer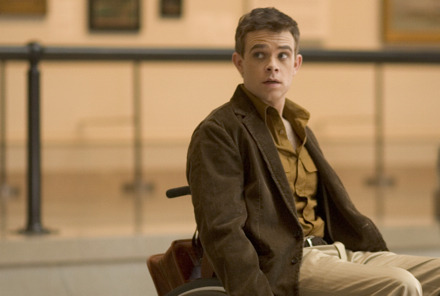 Magnolia Pictures has released the theatrical trailer for Quid Pro Quo, the new thriller from Carlos Brooks. The film premiered at the Sundance Film Festival to good reviews. My friend Scott Weinberg at Cinematical wrote that it was "worth seeing for the two leads alone", and described it as "a low-key cross between Garden State, The Waterdance and Cronenberg's Crash". Yeah, pretty weird combination. After watching the trailer I'm not quite sure if I'm interested or not. Actually, I'm quite confused and find myself wondering how someone would come up with such a story. Tell me what you think after the jump.
[flv:http://bitcast-a.bitgravity.com/slashfilm/trailers/quidproquo.flv 470 264]
You can also watch the trailer in High Definition on Apple.com.
Official Plot Synopsis: Isaac Knott (Nick Stahl) is a Public Radio reporter in New York City. When he was eight, his mother and father died in an automobile accident that left him in a wheelchair. On air, Isaac recounts how he recently received an anonymous tip from someone identified only as "Ancient Chinese Girl." She tells him a perfectly able-bodied man walked into an emergency ward downtown, and attempted to bribe a doctor into amputating his leg. As Isaac investigates the eerie tip, he encounters Fiona (Vera Farmiga) who, through her own quandary, leads Isaac to a netherworld of people afflicted with a perverse desire to be disabled. Like a contemporary noir detective film, QUID PRO QUO follows Issac as he embarks on a dream-like journey to pull back the layers of what makes people feel whole. Through the lives of two people on a search for the truth, QUID PRO QUO explores the human psyche and asks disturbing questions about what it means to be injured, and what it means to be healed.
Quid Pro Quo will hit theaters on June 13, 2008.