Viggo Mortensen, Ian McKellen, Andy Serkis In Talks For The Hobbit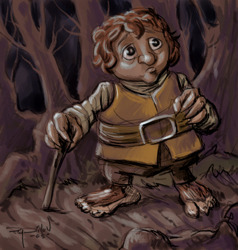 Guillermo del Toro will enter pre-production on the two-film big screen adaptation of The Hobbit after Hellboy II: The Golden Army hits theaters in July. Variety reports that Warner Bros has already had "preliminary contact" with three actors from Peter Jackson's The Lord of the Rings trilogy about reprising their roles for the upcoming prequels:
Viggo Mortensen (Aragorn)
Ian McKellen (Gandalf)
Andy Serkis (Gollum).
Guillermo promises that he is doing everything in his power to bring all the original team back.
"We will all be involved in the script in some fashion but the exact definition is about a week away," del Toro told the trades. "I am all for keeping the actors who originated the parts, as much as availability and their willingness will allow."
Basically, del Toro knows he needs to please the fans, first and foremost. It should be noted that on May 24th, WETA will be hosting a one-hour live online chat with Jackson and del Toro to answer the 20 most asked fan questions/concerns. Smart move.
Previously
Serkis lists The Hobbit on his upcoming production calendar on his official website and last month McKellen confirmed to Empire Magazine that he will return.
"Yes, it's true. I spoke to Guillermo in the very room that Peter Jackson offered me the part, and he confirmed that I would be reprising the role. Obviously, it's not a part that you turn down; I loved playing Gandalf."
No word on Ian Holm who played an older Bilbo Baggins in Fellowship, will likely be recast as he is getting too old (76) to play the part.