Highlander Remake Coming From Iron Man Writers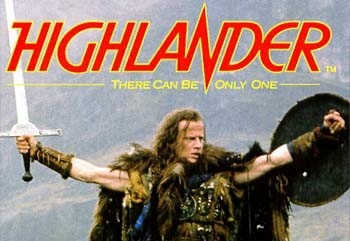 Rayyyden! Sorry, wrong movie, but at least I didn't intro with an iffy "there can only be one" joke. Writing team Art Marcum and Matt Holloway previously scribed Iron Man (btw: 9/10) as well as this December's Punisher: War Zone, and now they will envision a reboot for 1986's bit of sci-fi brilliance Highlander for Summit Entertainment. And, of course, if this one proves successful, there will be more. Described as a cocktail of "contemporary settings, action, mythology and medieval Scotland," Summit prez Patrick Wachsberger practically danced a jig, confessing to Variety...
"I have always dreamed of reinventing this franchise."
The original Highlander was one of the first franchises from my memory that constantly got knocked up and squeezed out terrible (-looking) offspring at the neighborhood video store. The flick is also Will Ferrell's (as Ricky Bobby) favorite movie. Partially set in the 16th Century (circa the '80s), Christopher Lambert (above) starred as a Scottish warrior and one of the world's Immortals, manly types who walk the Earth, including modern day NYC, looking to decapitate each other with swords due to a mysterious force called the Quickening. To this day, it still plays like a fever dream I had using my bookbag as a scratchy pillow. More on this as it develops...
Discuss: How do you feel about Hollywood's latest recovery from their endless remake ball pit? I'll watch a $100 million (just speculating) Highlander movie, fine. Â