Prince Caspian Headed To Disappointing $51M Opening; Narnia Sequels In Question?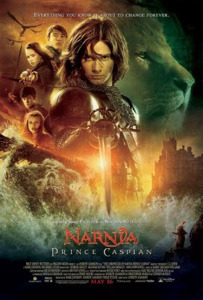 The early Friday night box office estimates are in,  and Disney's The Chronicles of Narnia: Prince Caspian failed to match the opening of 2005's The Lion, The Witch & the Wardrobe. Caspian took in $18M on Friday, and is looking at a $51 million weekend, almost 25% less than the previous film in the series. Theater owners were hoping for $80+M. Disney has already greenlit The Voyage of the Dawn Treader, but I'm not sure the series will continue after that. Producer Mark Johnson announced at the New York Comic-Con that the future of the franchise is strictly dependent on the success of both Prince Caspian and Voyage of the Dawn Treader.
Iron Man is still beating the expectations with a $9.25M Friday, soaring past $200M, and aiming for a $33M 3-day. Not bad for the film's third weekend in the hot Summer movie season.
Friday Estimates
1. NEW – Narnia: Prince Caspian (Disney) – $18M – $4,581 PTA – $18M cume
2. Iron Man (Paramount) â€" $9.25M – $2,227 PTA – $200.5M cume
3. What Happens in Vegas (Fox) – $4.65M – $1,429 PTA – $31.1M cume
4. Speed Racer (Warner Bros) – $2.4M – $666 PTA – $24.5M cume
5. Made of Honor (Sony) – $1.65M – $586 PTA – $30.8M cume
Three Day Estimates
1. NEW – Narnia: Prince Caspian (Disney) – $51.3M – $13,057 PTA – $51.3M cume
2. Iron Man (Paramount) â€" $33M – $7,944 PTA – $224.3M cume
3. What Happens in Vegas (Fox) – $13.75M – $4,224 PTA – $40.2M cume
4. Speed Racer (Warner Bros) – $8.1M – $2,246 PTA – $30.2M cume
5. Made of Honor (Sony) – $5.3M – $1,882 PTA – $34.5M cume
source: Fantasy Moguls