American Summer Movie Trailer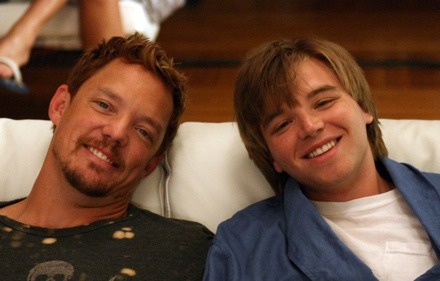 From the producer of American Pie and the director of American Pie 2 comes American Summer, which is actually completely unrelated the the aforementioned franchise. AICN called the movie the "American Pie version of Risky Business." The story follows uptight Harvard bound Alex Sperling (Brett Davern), who after a summer internship unexpectedly falls through, has no other option but to work for his supposedly successful cousin Roger (Matthew Lillard).
"Unfortunately, Alex discovers that Roger is a down-on-his-luck pool boy just days away from complete financial ruin.  But Roger has a possible solution-team up with his call-girl neighbor to start an elite escort business.  When the company unexpectedly succeeds despite the increasingly crazy clients, the trio must use their brains and their escorts to get out of the mess and get Alex back on the road to Harvard."
Also starring Rachelle Lefevre of Twilight fame, Efren Ramirez of Napoleon Dynamite fame, George Takei of Star Trek, Heroes and Howard Stern Show fame, ad Tom Arnold as himself. They are shopping the film for domestic distribution at Cannes. Check out the Cannes movie trailer below thanks to our friends at Collider.
[flv:http://bitcast-a.bitgravity.com/slashfilm/trailers/americansummer.flv 470 264]
Discuss: What do you think of the American Summer movie trailer?