Mike Judge Talks New Live-Action Beavis And Butt-Head Film. Johnny Depp Hoped To Play Beavis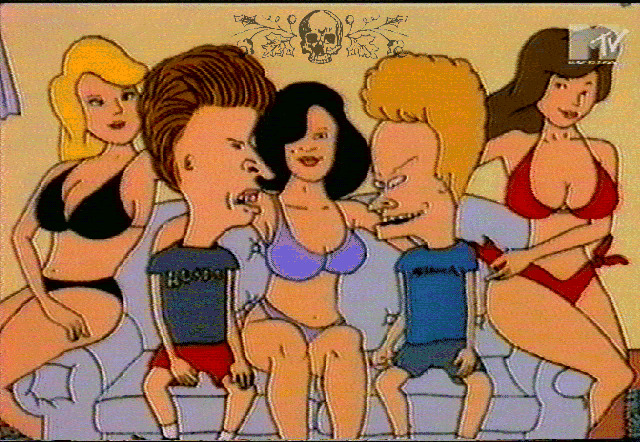 Obama chimp t-shirts. The Love Guru. These guys. "That f'ing hat." How many words are wasted criticizing, analyzing and decrying today's world, when all we really need is a "This sucks!" delivered by an AWOL Beavis and Butt-Head? Bring 'em back. The brilliant creator of America's foremost juvenile delinquents, Mike Judge, tells MTV that he's finally considering a new Beavis and Butt-Head film, albeit a live-action one...
"The Three Stooges survived a lot of different guys with Shemp, Curly," Judge reasoned. "I haven't yet said, 'OK, I wanna make a live-action "Beavis & Butt-Head" movie, and here's the idea.' But for some reason, I used to hate the idea for years, and now I think maybe there's something there."
Adding...
"I was thinking about having a Beavis and Butt-Head movie where they're just 60-year-old winos. Just something different but with the same spirit of it, you know? A long time ago Johnny Depp had said to me-he really wanted to be Beavis-he said, if you ever do a live-action movie, he wanted to be Beavis. And he said he was doing [Don Juan DeMarco] with Marlon Brando and he said Marlon Brando used to imitate Butt-Head and he would imitate Beavis, so I guess I'm thinking Johnny Depp and Marlon Brando. [smiles]"
The interviewer at MTV also suggested Sean William Scott for Beavis, a name that's been brought up in the past for a live-action version. And if you remember, before the so-so Beavis and Butt-Head Do America hit theaters, Adam Sandler was another. Thankfully that didn't happen. My take is that Judge would need to cast younger.
Obviously Depp is the exception, but Sean William Scott is frankly old and too jockish for either character; the actors need to possess a fresher chemistry and more age appropriate look a la Clark and Michael or Jake and Amir (click either to watch/laff). Judge, whose next film is the comedy Extract with Jason Bateman, also mentioned that a B&B theme park ride has been discussed. Nachos, terrified fat Americans, barf and flies everywhere. That would not suck.
Discuss: Who would you choose to play Beavis and Butt-Head? Sexman and McLovin? Anyone? Anyone?