Donnie Darko Sequel Begins Shooting May 18th... Wait, What?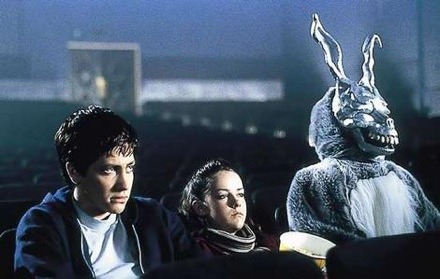 I'm a huge fan of Donnie Darko. Richard Kelly's debut film is not only one of my favorite films of 2001, but it's probably somewhere on my list of favorite films of all time. So when I learned this morning that a sequel was being made, I seriously began to doubt my commitment to sparkle motion. Don't get me wrong, I'm not anti sequel at all. I'll be happy to see Kingdom of the Crystal Skull, and enjoyed watching Live Free or Die Hard. If the original people are involved, and it doesn't suck as a movie (forget about comparisons to the original) then I'm in. But that's where the sequel to Donnie Darko goes wrong.
Apparently the sequel is being made completely without the involvement of Richard Kelly. The press release reads:
"Producers have spoken to Richard Kelly about the project but he is not involved in any official capacity at this stage."
But I'm guessing that this is just PR speak for Velvet Octopus probably called Richard Kelly, who explained he was not interested in being involved in a sequel. I just sent an email to someone I know over at Darko Entertainment, and they assured me that "Richard, Sean, and every ounce of Darko Entertainment are 150% NOT INVOLVED". This can't be good.
"Why do you wear that stupid Woman suit?"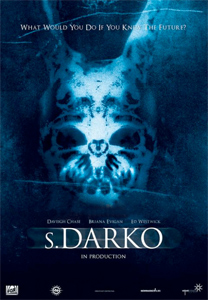 The sequel follows Donnie's younger sister, Samantha Darko, a role reprised by Daviegh Chase (of such direct to dvd classics as Beethoven's 5th: Big Paw and the animated Stich! The Movie). The story picks up seven years after the first film and Donnie's death when his now 18-year-old sister Samantha and her best friend Corey go on a roadtrip to Los Angeles, where along the way they are plagued by bizarre visions. And if that doesn't sound bad enough, guess what they're calling it? Donnie Darko 2? Nope. S. Darko! What? They couldn't even call it Samantha Darko?
But they probably nabbed an unknown filmmaker who has an incredibly unique vision, and ability to think outside of the box. Someone who was discovered in the world of music videos or some other visual medium, right? They wouldn't have hired a hack to direct the sequel, would they? They have. Chris Fisher, who previously made Nightstalker and Rampage: The Hillside Strangler Murders, will direct.
Producers told ScreenDaily that "Donnie's not in [the new film] but there are meteorites and rabbits." Oh, great. The budget is pegged around $10m, and production begins on May 18th. The supporting cast includes Ed Westwick (Son Of Rambow, Gossip Girl), Briana Evigan (Step Up 2) and Justin Chatwin (Dragon Ball). Fox has already nabbed the North American distribution rights. Avoid at all costs.