Cool Stuff: Iron Man Prop Replica Helmets


Sideshow Collectibles has started taking preorders for the Iron Man Prop Replica Helmets from Museum Replicas.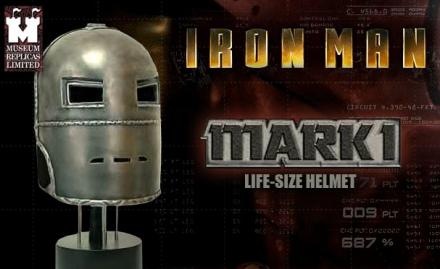 Tony Stark, the billionaire industrialist and genius inventor has been kidnapped. His captors have one demand – to build a copy of his most deadly missile weapon, capable of unparalleled devastation. Instead, using his intelligence and ingenuity, Tony builds a high-tech suit of armor and escapes. When he uncovers a nefarious plot with global implications using technology he originally invented and manfuctured, he dons his powerful armor and vows to protect the world as Iron Man. This replica perfectly captures the amazing original helmet that Tony built in captivity! Code-named Mark 01, every piece is expertly hand forged in steel. The helmet is constructed with a hinge at the top for ease of dressing and removal, complete with lining made of cut-up suede "work gloves" and fastened at the sides just like the prop used on set. Includes display base and hand numbered certificate of authenticity. Stark Industries will only allow 500 to be made, so don't miss your chance to capture the Mk1 Helmet Prop Replica! On sale on Sideshowtoy.com for $374.99.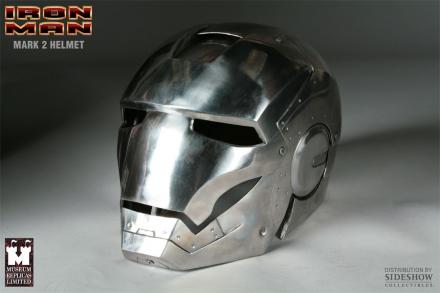 After escaping imprisonment at the hands of the 'Ten Rings', Tony Stark vows to clean up the mess that Stark Industries' irresponsible weapons sales had caused, and dedicates himself to protecting those who cannot protect themselves. The intrepid inventor builds the Mark 2 Armor, a sleek, nearly invincible suit that enables flight and a great degree of mobility. The thick, interlocking plates of this armor offer a higher degree of protection over the original suit, from small arms fire ranging up to light artillery. Integrated artificial intelligence grants extremely sophisticated tactical options, making the user a match against far superior forces. This replica of Stark's experimental Mk2 design is extremely limited, with only 250 pieces worldwide. It's expertly made, based on Stark's blueprints, of hand formed steel, fully padded and copied from the original hero prop used in the film. This full-scale replica features a hand numbered certificate of authenticity and display base! On sale for $424.99 from Sideshowtoy.com.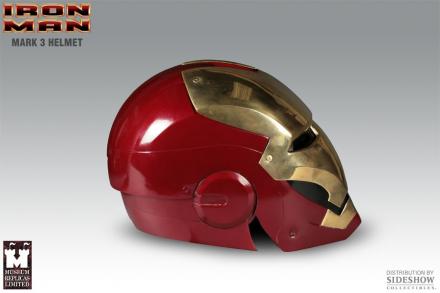 This "final" version of Tony Stark's incredible Iron Man armor is the pinnacle of human technological achievement. It makes the wearer extraordinarily strong, and resistant to damage even from tank shells and rockets. Equipped with an array of repulsors and missiles, it is nearly unstoppable. This helmet is an incredibly detailed, real metal replica prop, based on the actual hero prop. Only 1,500 pieces of this amazing helmet will be made. The helmet is constructed of expertly hand formed steel, with the classic color scheme of plated brass and the deep crimson we've all come to know as the ultimate Iron Man. This full-scale replica features a hand numbered certificate of authenticity and display! Will you vow to don the powerful armor to protect the world? On sale for $424.99 from Sideshowtoy.com.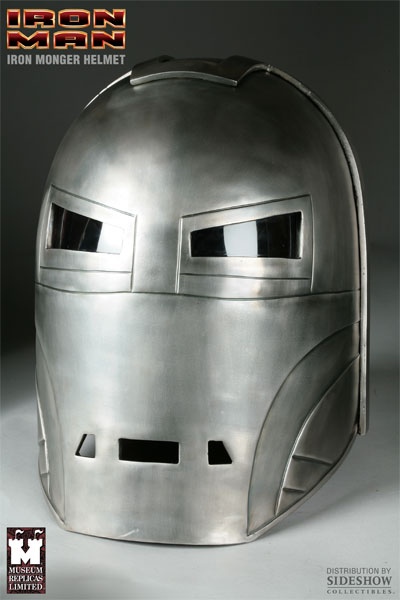 The Iron Monger armor, manufactured by Stane International and code-named I-M Mark One, is an armored battle-suit of "omnium steel", containing various offensive weaponry and amplified strength. Since the Iron Monger armor was based on Tony Stark's original plans, which Stane stole, it is a modified version of Stark Industries Iron Man MK 1 design. The armor was made larger than the armor of Iron Man to be proportionally stronger. This replica helmet features hand forged steel with full internal padding and plastic tinted eye lens. Each pieces includes a display base and hand numbered certificate of authenticity. Only 250 of the arch villain will be made (we can't have too many of you running around). One size fits, well everyone. This thing is appropriately huge and perfect 1:1 scale.  On sale for $399.99 from Sideshowtoy.com.
Cool Stuff is a daily feature of slashfilm.com. Know of any geekarific creations or cool products which should be featured on Cool Stuff? E-Mail us at orfilms@gmail.com.