Common Cast In Terminator 4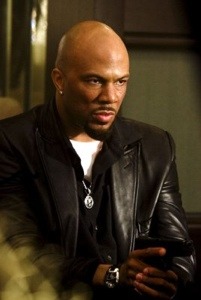 Production began earlier today on Terminator 4, and the final casting announcements are beginning to hit the wire. The newest addition to the cast is rapper Common, who has signed on to co-star as a freedom fighter and member of John Connor's (Christian Bale) inner circle.
Let's tae a look at the rest of the announced line-up: Sam Worthington (Avatar) is also on board the project as Marcus, a central figure in the planned three-picture arc. Anton Yelchin is Connor's friend and future father Kyle Reese. Josh Brolin has been rumored to play the Terminator of the fourth film, but this has not yet been confirmed. Moon Bloodgood has also been rumored to be involved in the project. McG is directing from script by John D. Brancato & Michael Ferris and Paul Haggis.
Common has appeared in Smokin' Aces, American Gangster, Street Kings and the upcoming comic book adaptation Wanted. The rapper turned actor was also scheduled to play the Green Lantern in Warner Bros' now defunct Justice LEague movie.
Terminator 4 is scheduled to hit theaters on May 22nd 2009.
source: Variety