Page 2 For May 4th
Here is a round up of stories that just didn't make the /Film front page, or what we like to call.... Page 2!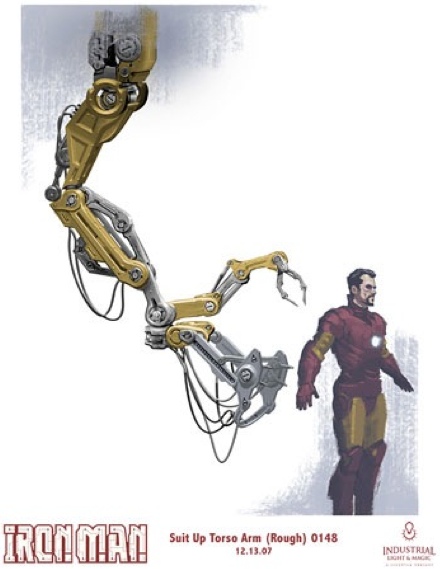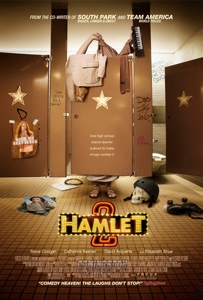 ComingSoon has the poster for Focus Features' Hamlet 2.
The New York Times has a audio commentary slideshow with Aaron McBride, the visual effects art director for Iron Man, describing how the suit up machine was created for the film, featuring concept art like the photo seen above.
Big-time Southern California real estate developer is obsessed with Blade Runner. He recently unveiled plans to hang a 14-story LED billboard on the facades of two 33-story condos a la Blade Runner. [i09]
An animatronic mobile WALL-E has been spotted wandering the Disney parks. [pixarplanet]
The contract between CBS and Cedar Fair (current owners of Star Trek The Experience at the Las Vegas Hilton) ends December 31st, and a spokesperson for Cedar Fair tells TrekMovie "there are currently no plans to renew" it. [trekmovie]
Wizard counts down the 200 Greatest Comic Books of All Time.
Academy Award Winning screenwriter Diablo Cody interviews John Cusak on MySpace's Artist on Artist.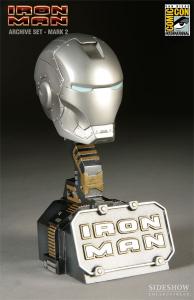 Sideshow Collectables has announced their Comic-Con 2008 Exclusives which includes the Iron Man Archive Set Mark II (pictured right).
Lessons from Pixar's Brad Bird on fostering innovation in the workplace: "In my experience, the thing that has the most significant impact on a movie's budget — but never shows up in a budget — is morale. If you have low morale, for every $1 you spend, you get about 25 cents of value. If you have high morale, for every $1 you spend, you get about $3 of value. Companies should pay much more attention to morale." [kottke]
The first rule of Twitter Fight Club is we don't talk about Twitter Fight Club!
The Hollywood Reporter says The Descent 2 is going forward with Celador Films and Pathe. Budgeted at $10 million and scheduled for an eight-week shoot with no start date has been announced.
Picturehouse delays Amusement until fourth quarter 2008. [bloody-disgusting]
Paramount Home Entertainment's Cloverfield topped both the national DVD sales and rental charts its first week in stores. [CS]
The Weinstein Company and Senator Entertainment are producing a big screen adaptation of Capcom's Clock Tower, directed by Martin Weisz, of Grimm Love and The Hills Have Eyes 2, with a script by Eric Poppen of Borderland. [FirstShowing]
ToplessRobot counts down the 10 Crappiest Iron Man Villains Who Won't (and Shouldn't) Make the Movies.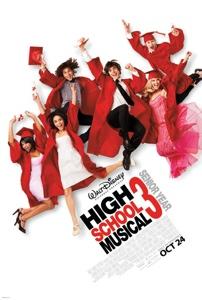 Disney has released the poster for High School Musical 3: Senior Year.
Is Iron Man the first comic-book movie better than its source material? [spout]
SpikeTV plays Press Junket Trivia with Son of Rambow writer/director Garth Jennings and producer Nick Goldsmith.
The Sisterhood of the Traveling Pants 2 now has a second movie trailer. I'm sure someone out there might care... maybe not. [cinemablend]
The Smallville producers, The CW, Warner Bros. Television, and Michael Rosenbaum announced Thursday that the actor will be leaving the show. [SHH]
James Gandolfini, Steve Coogan, David Rasche and former child actor Anna Chlumsky will star in the political satire "In the Loop" for BBC Films. [THR]Iron Man has earned $96.7 million in 57 countries since it began opening Wednesday, putting its worldwide total at $201 million after just five days!  [shh]
Sylvester Stallone Loved Son of Rambow. [wells]