Box Office Tracking: Iron Man Targets $102M By Monday Morning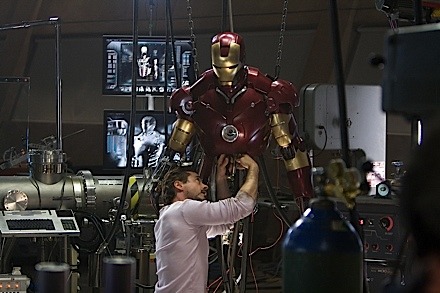 I did a personal survey of studio sources today, and they were unanimous in saying that the release of Grand Theft Auto IV, the Xbox 360 and Sony Playstation 3 video game sensation released on Tuesday, will have absolutely no effect whatsoever on the box office performance of Iron Man (Paramount) this weekend.
As I wrote on Monday, this Jon Favreau-directed comic book adaptation is out-tracking last summer's Dreamworks/Paramount smash Transformers, which is no small feat. Iron Man is not one of Marvel's "top shelf" comic book heroes, and yet they have self-financed a film that is getting raves from critics (93% Fresh at Rotten Tomatoes) and industry tracking shows Un-Aided Awareness, an excellent measure of buzz and anticipation, approaching 30%.
This is the first of 10 films from Marvel Studios. They only have licensing deals for Spider-Man (Sony) and The X-Men (Fox), but they have produced and financed Iron Man, and it's now clear that the gamble will pay off in a big way. The timing is perfect, because on Monday, Marvel will announce earnings, and a huge Iron Man opening will likely give the company's stock a short-term boost.
Paramount is playing the "by-the-book" downplay expectations game, and the number that seems to be kicking around over on Melrose is for a $75M opening, but with a 50%+ Definite Interest number and a 30%+ First Choice score, I see this movie flying well past that mark. I am, however, slightly scaling back my predictions for the Robert Downey, Jr. vehicle's opening weekend.
When the movie opens Thursday night starting at 8pm, it will probably fall short of the $8M early preview screenings of Spider-Man 3 and Transformers. I'm dialing back to a $5M Thursday night take. Thursday will take a slight bite out of Iron Man's Friday number, but $34M is likely, and then the picture should get a modest bump on Saturday to $35M. Add $28M on Sunday, and I'm expecting $102M for Thursday night thru Sunday. That could translate to a total domestic gross of $275-$300M.
Marvel stockholders should be very happy in the near-term, and numbers like that will certainly guarantee a couple of Iron Man sequels. The new studio will follow up with The Incredible Hulk in June, which doesn't seem like a slam-dunk. Then will come projects featuring second-tier Marvel characters like Thor, Captain America and Nick Fury. These are much tougher sells, but success is certainly possible.
As for Sony's female-skewing counter-programming, the Patrick Dempsey film Made of Honor, it will be an uphill climb. One studio exec compared its tracking to Warner Bros Christmas release P.S. I Love You. It's clearly a notch better than that with what I'm hearing is a stronger Total Aware (70%-67%), Definite Interest (29%-24%) and First Choice (8%-5%). The Hilary Swank-Gerard Butler chick-flick opened with a 3-day of $6.7M and grabbed a mere $14.2M in its first 7 days, which included Christmas. Dempsey's role on Grey's Anatomy puts him right in the wheelhouse for Females 25 Plus, but it's still difficult to see how Made to Honor gets much past $15M on opening weekend, and the rom-com's ceiling is about $18M.
Here are my final predictions for the first weekend of the summer blockbuster season.
1. Iron Man (Paramount) – $97M (Fri-Sun) – $102M (Thur night-Sun)
2. Made of Honor (Sony) – $16.75M
3. Baby Mama (Universal) – $8.9M
4. Forgetting Sarah Marshall (Universal) – $6.8M
5. Harold & Kumar Escape From Guantanamo (Warner Bros) – $6.7M
6. The Forbidden Kingdom (Lionsgate) – $6.25M
7. Nim's Island (Fox) – $3M
8. 21 (Sony) – $2.7M
9. Prom Night (Sony) – $2.2M
10. Horton Hears a Who (Fox) – $1.6M
Read More at Fantasy Moguls.