Don't Skip The Iron Man End Credits: Samuel L. Jackson's Nick Fury Appears After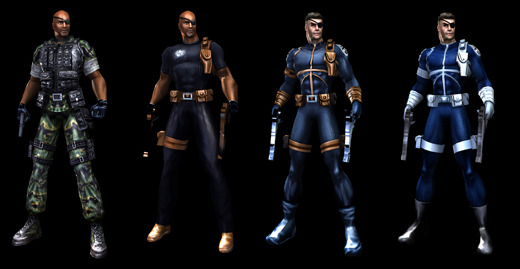 Last we reported, Samuel L. Jackson's Nick Fury had been waxed off the final cut of Iron Man, but fortunately that's not the case. As MovieHole points out, Fury/Jackson does appear but not until after the surefire blockbuster's end credits. He also delivers some spoiler-worthy dialogue [Slashfilm pistol fires in air], which we have after the jump. Because I can't help myself, Peter says Iron Man is hot sh*t. Here's what Australian journo, Adam Richard, told the Hole...
"Sam Jackson as Nick Fury is indeed in Iron Man. The final spool of the film was not screened to journos and reviewers as it only arrived in Australia yesterday ahead of premiere screenings. I saw the film a few weeks ago to prep for a Downey Jr interview, and went again last night (cos i loved it SOOOO much!) and at the end of the credits is an awesome 40 seconds or so with Stark and Nick Fury. I may have soiled myself slightly..."
So, what does it take from a Nick Fury cameo to make a grown man in Australia (which was notoriously founded by criminals and derelicts) nearly defecate himself? We've posted a spoiler description after the jump. Before we get to that, be a pal and shout out to your fellow clueless moviegoers that Fury appears. Or be a cool guy and just smirk in the dark. Decisions, decisions...
Discuss: Could Nick Fury whup Iron Man? What do you think of the spoiler? Will it happen?
This quote is also from MovieHole via an anonymous scribe...
"At the end of the credits, Stark comes home and finds Nick Fury in his living room -staring towards the window. He then turns to tell Stark he's the not the only superhero in the world. Stark asks who he is, and Fury turns and says he's "Nick Fury of S.H.I.E.L.D, and I'm here to talk to you about The Avengers Initiative".
Jackson is rarely better than when he's staring out a window contemplating a diabolic future. Will the Avengers be forming like Voltron with Fav at the helm?