Box Office Tracking: Speed Racer May Struggle To $35M Opening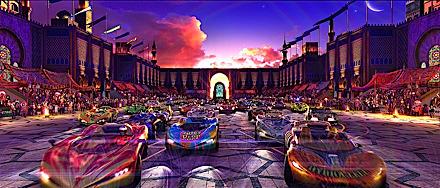 Warner Bros and the Wachowski Brothers may need to call for a tow truck. Speed Racer, the big budget adaptation of the popular late 60's anime cartoon classic, remains in the "slow lane" according to the most recent industry tracking.
Studio sources are attempting to explain away the bad tracking by saying that family films never score particularly well in advance audience surveys, but there's something fundamentally wrong in the numbers that have been described to me. Un-Aided Awareness, an excellent measure of buzz and anticipation, is stronger for The Chronicles of Narnia: Prince Caspian (Disney) at 9% than it is for Speed Racer at 8%, and the Narnia sequel won't hit theatres until May 16.
The bad news doesn't stop there. Narnia out-tracks the Emile Hirsch-Christina Ricci racing flick in the Definite Interest column 44%-32% and in the all-important First Choice score 17%-4%. Yes, there are some kids unrepresented in the tracking, but this has all of the makings of a disastrous roll-over car wreck.
One exec from a competing studio told me that Warner Bros will be lucky to steer Speed Racer to $35M on opening weekend. On the flipside, the Narnia tracking suggests that it will have no problem opening above the 2005 original's $65.5M the following Friday. Even if word-of-mouth for Speed Racer is positive, there likely won't be time for it to get any traction with family audiences before being swamped by Prince Caspian. That means that the likely ceiling for the Wachowski brainchild is a disappointing $75M-$80M.
Read More at Fantasy Moguls.