First Look: Sleestaks From Land Of The Lost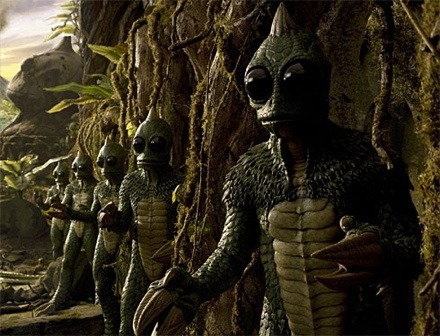 Last month we posted photos of Will Ferrell on the set of the big screen adaptation of Land of the Lost. Tonight USAToday brings us the first official production photo from Brad Silberling's upcoming film.
The photo gives us a first look at the Sleestaks, villainous one-horned lizard creatures, who surface in a temple where Ferrell's character and his two companions (Danny McBride and Anna Friel) are "hoping a giant crystal will return them to their own dimension." Silberling fought to keep the Sleestaks man-in-suit, and thank goodness he did, because they are probably funnier that way. And besides, did you really want non-human shaped computer generated designs? The film version of the Sleestak can draw quills from their spines and fire them like arrows instead of carrying crossbows as they did in the original television show.
Ferrell plays Dr. Marshall, a wacky scientist who ends up the laughingstock of the scientific community after attacking the quadriplegic and wheelchair-bound Stephen Hawking while being interviewed on Anderson Cooper 360. Dr. Marshall is reduced to becoming a tour guide at the La Brea Tar Pits, the only scientific job that would take him. A young hot scientist played by Anna Friel convinces Dr. Marshall to go with her on an expedition which no doubt takes him to the Land of the Lost.
Land of the Lost is currently shooting on multiple sound stages at Universal Studios. The film is scheduled to hit theaters on July 17th 2009.