Page 2 For April 28th 2008
Here is a round up of stories that just didn't make the /Film front page, or what we like to call.... Page 2!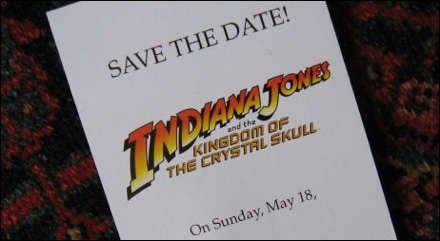 Expect the first reviews of Indiana Jones and the Kingdom of the Crystal Skull on Sunday May 18th at 6:30am-ish eastern time, as that is when press at Cannes will have seen the film. Domestic press will see the film later that afternoon/night at nationwide press screenings. [jeffwells]
Harland Williams will make the transition from acting to directing with "Wing Man", a new $10 million dollar comedy. [moviehole]
5.5 million households added a high-definition television set to their furnishings for the first time during the period from last year's holiday season to this year's Super Bowl. [imdb]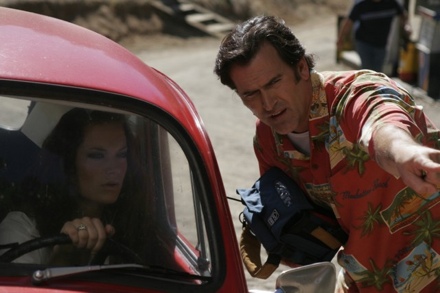 Horror-movies.ca has new photos from Bruce Campbell's My Name is Bruce.
On April 29th, Apple iTunes will release the long-awaited end credits overture "ROAR!" from Cloverfield by Michael Giacchino. [Bloody-Disgusting]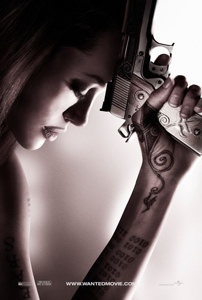 AICN has another new Wanted movie poster featuring Angelina Jolie's scrawny arm.
Seven people were injured Saturday in a collision between a bus and several cars during the filming of G.I. Joe in the center of Prague. [shh] Filmdrunk's headline GOD TRIES TO STOP GI JOE MOVIE is both hilarious and in bad taste.
Deadbolt wonders what Quentin Tarantino could do with a big screen adaptation of Grand Theft Auto.
The good people at Pixar are growing frustrated of the Walt Disney Imagineers. [jimhill]
io9 ponders Why Do Anti-Heroes rule Science Fiction?FilmSchoolRejects counts down the15 Must See Movies of Summer 2008.
Mobile animatronic WALL-E's are being built for Disney's Hollywood Studios (previously known as Disney-MGM Studios). [pixarblog]
Victor Salva is prepping not only Jeepers Creepers 3: The Creeper Walks Among Us, but also a fourth film in the franchise, which is said to shoot back-to-back for MGM. [Bloody-disgusting]
Transformers 2 will film at the infamous Air Force boneyard in Arizona known as The Boneyard. [shh]Starpulse takes a look at the best and worst films by Quentin Tarantino.