Hunter Stephenson's Movie Review: Harold & Kumar Escape From Guantanamo Bay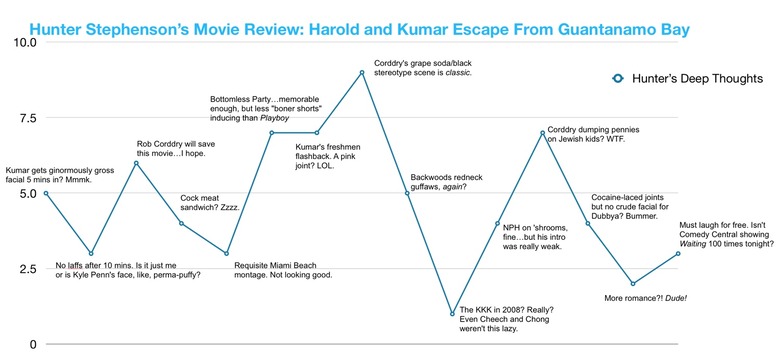 Some movies don't merit word counts or brain cells. Harold & Kumar Escape from Guantanamo Bay starring Kal Penn, Rob Corddry, John Cho, NPH on 'shrooms and a bevy of bottomless ladies is one of them. Peter asked me to inform readers that the sequel is graphed here chronologically using the site's laff-o-meter (usually kept in the basement because it's kind of a lame device). My official Slashfilm rating for H&K2 is a 4.5/10, with a margin of error of one point if you see it for free and another half point if you're a human bong. Click to make the graph pop and click once more to zoom in.
UPDATE: I just remembered that a song by the Caucasian rap-Caucasian dreadlock-soft metal '90s band 311 is contained therein. 311 in 2008!?! I am now marking the film down to a 3.5/10.