Jimmy Fallon Taking Over For Conan O'Brien: So What Do You Think?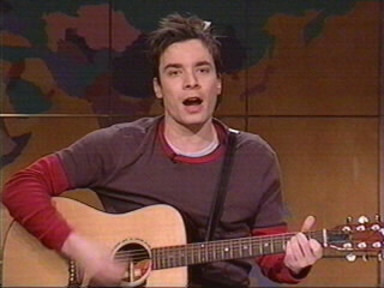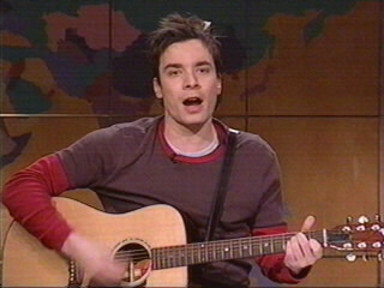 "My face stayed like this permanently. Isn't it funny?"

As you may have heard, the word is out that Jimmy Fallon, the SNL alum and general entertainment phantasm, will be taking over as host of Conan O'Brien's Late Night on NBC in 2009. This will put Fallon head to head with CBS's "TV's Craig Ferguson," who has ascended in the ratings and in the funnay-ness as of late. Does a great Aquaman, too. And of course, Conan takes over for Jay Leno on The Tonight Show, putting him against one David Letterman.
Unless you're sponsored by Ambien, I'm sure everyone has an opinion about how this plays out next year. Does Fallon piss you off or is he a quaint guilty pleasure? Will Conan's "me no talk comfortably with women, hee hee" aging sense of humor play to the Activia-slurpin' Leno crowd? Does Carson Daly continue to starve himself for no apparent reason? Oh, yeah, and Jimmy Kimmel. Let us know in the comments. Does the Internet rule these shows out completely for your insomniac lifestyle? And no, this isn't patented Slashfilm fodder, but it's not a major sign of the apocalypse either. Or is it?
My take: I hate Fallon. He's friggin' terrible. I've met him twice in person, and he's just like he is on screen. Smug and distant. Craig Ferguson will pwn the time slot. Conan will bomb like Couric in his new gig. Leno finds a new home and him and Dave continue their non-feud feud. Saw The Late Show live in the Rotten Apple on Monday and it was a strange experience (and subpar show). Being told to clap and laugh over and over while you're shivering (cliche, but true) and half-way listening to Billy Crystal's pope jokes was like subtle science fiction. But Letterman's still the man, as is Chris Elliot and his gut.
Discuss: How will Fallon do? How about Conan vs. Letterman? Why not give one of these time slots from the Land of Predictable Monologues to Paul Scheer and Human Giant? Shake it up...