Box Office Tracking: Kumar "Higher" Than Baby Mama; Iron Man Shoots For $100M Next Weekend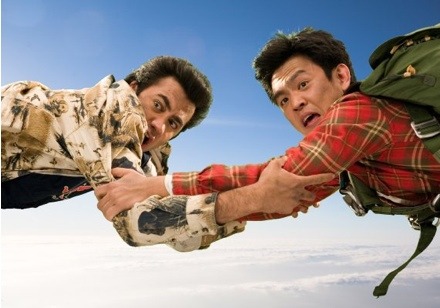 As of Monday night, I projected that Harold & Kumar Escape from Guantanamo (Warner Bros) would win this final pre-Iron Man (Paramount) weekend, and I'm standing by that, although I don't expect any new film or holdover to top $15M.
Industry tracking suggests that the Harold & Kumar "legend" has grown exponentially since their first adventure in 2004 that delivered a modest $18.25M. I'm told that this stoner comedy has a Total Aware above 70% and more than 60% of Males Under 25 have Definite Interest. One reason this call is tough is that the picture sports an R rating, but with a over 30% of Males Under 25 calling it their First Choice, I'm going out on a limb and forecasting a win.
Kal Penn and John Cho have become the latter day Cheech & Chong thanks to DVD, cable and midnight movies. In the first H&K adventure, a convoluted trip to White Castle, they gave us gems like this:
Harold: I want 30 sliders, 5 french fries and 4 large Cherry Cokes.
Kumar: I want the same except make mine Diet Cokes.
Young males are predictable. When they say that they're interested, they tend to show up on opening weekend. I say Harold & Kumar Escape from Guantanamo will deliver $14.5M on opening weekend, and that should translate to about $30M domestic by the time it finishes its domestic run.
The Tina Fey/Amy Poehler comedy Baby Mama (Universal) has a more friendly PG-13 rating, and it could certainly win the weekend based on Total Awareness exceeding 70%. Its strongest demo in tracking, however, is Females Under 25, not nearly as reliable, especially when young males tend to make the decision on "date night."
There are 2 other factors working against Baby Mama. First, Harold & Kumar is the 2nd choice of Females Under 25 with a score in the double digits. Also, Universal's holdover Forgetting Sarah Marshall will hold strong, based on word-of-mouth, and it will, to some degree, cannibalize the audience for their new release. I am predicting that Universal will grab the #2 and #3 positions in the Top 5 with Baby Mama on top at $12M. Ultimately, the Fey/Poehler vehicle will finish its domestic run with $26M.
The other wide release is the barely-screened-for-critics Deception, which is being dumped by Fox, despite a cast that includes Ewan McGregor, Hugh Jackman and Michelle Williams. This picture is DOA and will be lucky to reach $4M on opening weekend. Ultimately, it will be tough for this bomb to reach even $10M domestic.
Last bit of tracking info for this week. On Tuesday, I wrote that for next week's Iron Man, "$60M+ is all but guaranteed." According to the latest tracking and conversations with several studio sources today (Thursday), I'm revising Iron Man to $100M in the period starting Thursday (5/1) at 8pm and ending Sunday night (5/4). In fact, Paramount's company line seems to be that "anything that starts with a 7 would be great."
If Iron Man's own studio is talking about $70M, it's safe to call for something bigger, and $100M seems like a good bet. Also, given the advantage that Spider-Man 3 received for being the first blockbuster of the summer, I think the Robert Downey Jr. Marvel superhero epic could finish its domestic run with $275M.
FINAL PREDICTIONS FOR APRIL 25-27
1. Harold & Kumar Escape From Guantanamo (Warner Bros) – $14.5M
2. Baby Mama (Universal) – $12M
3. Forgetting Sarah Marshall (Universal) – $11.2M
4. Forbidden Kingdom (Lionsgate) – $10.7M
5. Prom Night (Sony) – $4.4M
6. Deception (Fox) – $3.5M
7. Nim's Island (Fox) – $3.4M
8. 88 Minutes (Sony) – $3M
9. 21 (Sony) – $2.75M
10. Horton Hears a Who (Fox) – $2.1M
Read more at Fantasy Moguls.