Box Office Tracking: Iron Man $60M+ Opening Weekend, Speed Racer On A Slow Track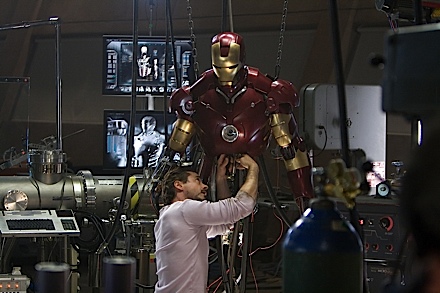 Summer blockbuster season is just a week away, and I have been working my regular industry contacts to get an early feel for the first 2 weekends of May. The news is very good for Iron Man (Paramount), but Speed Racer (Warner Bros) is a huge question mark.
Those that have seen Iron Man (Paramount) have been blown away by Jon Favreau's Marvel adaptation. One exec described it as not so much a superhero movie and not exactly science fiction. It is more "science fact." Paramount has every reason to be thrilled with early tracking for Iron Man due next Friday (5/2). I'm told that Un-Aided Awareness, the best measure of buzz and anticipation, is at a solid 15%. The Total Aware is at 82%, so it will likely reach complete saturation by opening day. With 11 days until opening, Definite Interest is an excellent 50% and the Robert Downey, Jr. vehicle checks in with a 20% First Choice.
As of today, it appears that Iron Man will fall well short of the $151.1M that Spider-Man 3 earned on the same weekend last year, but there is an almost certain $60M+ opening. This is a conservative early read, and it's very possible that I'll adjust north early next week.
The other May 2 release is Made of Honor (Sony). McDreamy (Patrick Dempsey) has real female appeal, but as of now, only 66% of moviegoers have heard of the movie. Made appears to be a solid piece of counter-programming. My sources point out that even though Overall Definite Interest is at 29%, the rom-com has 43% Definite Interest among Females Under 25 and 37% with Females 25 Plus. As of Tuesday (4/22), it is very possible that $16M-$19M is in the cards on opening weekend.
There is every reason for Warner Bros to be concerned about the Wachowski Brothers' treatment of the classic cartoon Speed Racer.  I am hearing that Un-Aided Awareness is at only 5%, but it has a Total Aware of 77%. Definite Interest, however, is at a mere 29% and that could spell trouble. That's less interest than the Cameron Diaz/Ashton Kutcher picture What Happens in Vegas (Fox), which opens on the same day.
Speed Racer is showing strength with the 25 Plus crowd â€" people who grew up on the cartoon â€" but it is struggling to get traction with Under 25's. Warner Bros must be hoping that this picture will skew very young and will play like a family film luring parents with their kids. Pre-teens are never fully represented in industry tracking, but still, this is a big, very expensive blockbuster. Unless it is connects more strongly with Males Under 25, it may be a huge disappointment.
Read More on Fantasy Moguls.