Zack Snyder Launches Watchmen Contest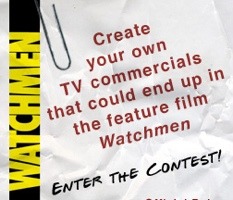 Watchmen director Zack Snyder has launched a new contest on YouTube where fans of the comic book and upcoming film adaptation can create Veidt ads which might be used to fill the many monitors screens in  the movie. How cool is that? Fans actually might get to create something that will show up on screen during the actual film! You can download all the media assets you may need for your commercial and watch some sample spots to show you what they're looking for. Zack will choose up to 20 videos to include in the movie, and those finalists will win $1000.
Check out the contest now on YouTube or watch the video introduction from Zack Snyder below.
[flv:http://media2.slashfilm.com/slashfilm/trailers/zackwatchmencontest.flv 460 348]