College Movie Trailer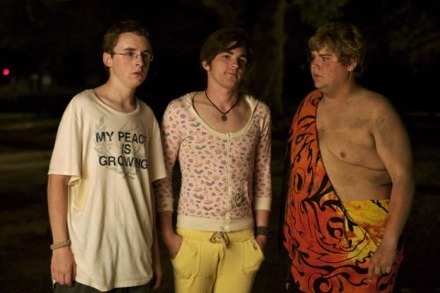 When I met actor turned screenwriter Dan Callahan at a Los Angeles party, he described his upcoming film College as Superbad but less smart and more vulgar, a call back to the raunchy teen comedies from my youth (Porky's...etc). The official movie trailer has finally been revealed, and can be watched below.
And yes, my first impression is that the movie looks okay but it doesn't look great. But I'm operating under the vulgar R-Rated comedy theory where all the really funny stuff can't been shown in a green band movie trailer. I really hope that MGM releases an Red Band movie trailer online so that we can really see what this movie is like. Watch the trailer below, and tell me what you think in the comments.
[flv:http://media2.slashfilm.com/slashfilm/trailers/college.flv 460 260]
You can also watch the trailer in High Definition on Yahoo.com. College hits theaters on August 29th 2008.
Discuss: What did you think of the College movie trailer?