The House On Sorority Row Remake Now Has A Script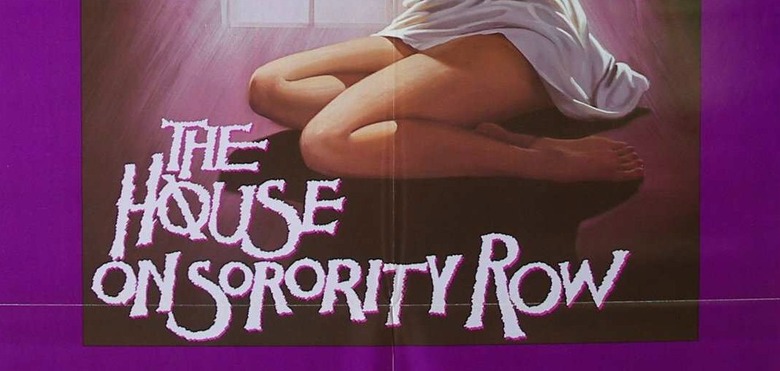 The Prom Night remake slept with $22 million over the weekend, so expect more..."PG-13 tiara horror"; which also means you can expect more requisite, "Is Horror Dead, I Mean Really Dead This Time?" editorials on other sites. Fango reports via a privy industry site that writing duo Josh Stolberg and Peter Goldfinger, who are responsible for this July's 3D Piranha remake (I predict it will both slay and make a tidy profit), have finished a script for another remake: 1983's The House on Sorority Row. No news yet on the studio/director/tipping point.
The original is not the worst slasher I've ever seen, if simply for the fact that having a pool/house partaay with friends right after you've killed an old lady sounds like fun, in theory. Having aforementioned non-GILF come back from the dead and cane horny teens to death? Less so. What, no gumming? So, yeah, remake remake remake. Sweat it out. I wonder how many weeks we have until there's an announced remake for Slumber Party Massacre? The prototypical, huffy '80s horror villain cruising around in the so-not-suspect Amber Alert windowless van has to set his stare on a Brittany Snow doppleganger (oxymoron?) sooner than later.
Discuss: Is PG-13 cheerleader horror the new CGI talking forest-animal movie?