Michael Bay And Eli Roth Respond To Uwe Boll's Comments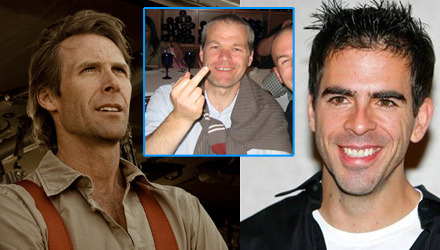 Here is the quick recap: Hack video game movie director Uwe Boll said he would quit filmmaking if one million people signed a petition. After we posted a story about the situation, over 125 thousand people signed the petition. Feeling the pressure, Boll released a video statement demanding that his fans start a pro-Boll petition. During his video statement, Boll attached Michael Bay for being a "f**king retard", Eli Roth for "making the same shitty movies over and over again", and George Clooney, concluding that he is "the only genius in the whole f**king business."
Eli Roth quickly responded calling Boll's negative comments about him the "greatest compliment ever."Michael Bay has responded to the comments against him on his official message board:
"I find people who rant like that – calling shit about both me, and George Clooney – comes from someone screaming because he is not being heard. He is obviously a sad being. When you ask 'do I care?' Not in the slightest."
I think Dr. Boll should take on both Michael Bay and Eli Roth in a two vs. one boxing match to settle this. And it should be noted that in the last 10 hours twenty more thousand people have signed the petition, and we now have over 143 thousand people officially behind the cause to rid the film world from a cinematic cancer.
If you haven't already, Sign the Petition now!