United Artists Pushes Valkyrie Back To February 2009. Tom Cruise Career Speculation Builds.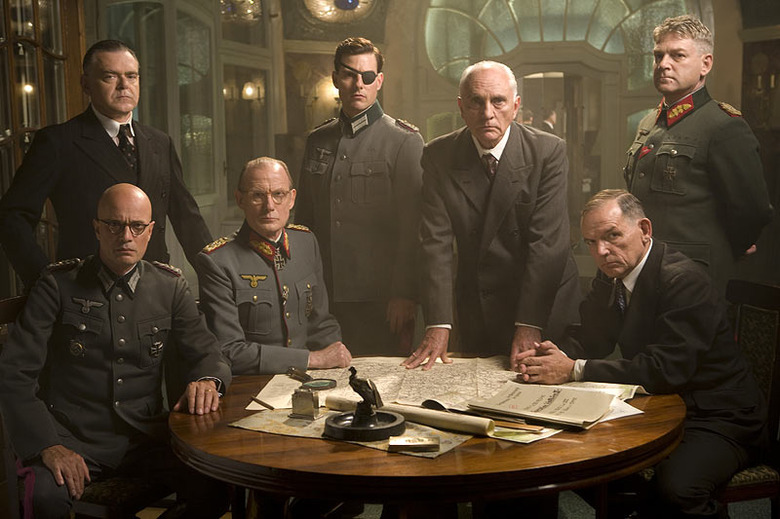 "Slide to the left, now slide to the right."
The Internets today: Tom Cruise's career is on life support, yadda yadda. Is the Internets correct? I'm not fond of talking about Tom Cruise around the water cooler, but I'd say the Internets are wrong. Does that make me a relevant revolutionary? United Artists, which is headed up by Cruise and Paula Wagner, has pushed back the release date for Bryan Singer's expensive kill-Hitler flick, Valkyrie, from October '08 to February 13th, 2009. Yes, that means Tom Cruise will battle Jason Voorhees. Amazing.
This marks the second calendar move for the poorly buzzed and semi-mocked war film. Previously, Valkyrie was set for a release this June, but when the original trailer–which lacked the kinetic action of a summer blockbuster and memorably showed Cruise as an eye-patched Nazi who talks like a Santa Cruz sensimilla dealer–bombed the film suddenly became a "prestige picture." Fall called. Now President's Day Weekend calls. Here's what MGM's distribution president, Clark Woods, had to say to The Hollywood Reporter...
"When an opening became available for Presidents Day weekend, we seized the opportunity. Having seen a lot of the film and how great it is going to play once it's finished, moving into a big holiday weekend is the right move."
Over at The Hot Blog, David Poland speculates that Cruise will rev up Mission: Impossible 4 for a start in September in order to get a sure thing in the basket. Poland doesn't give specifics but says he's 90% sure that M:I 4 will happen. Really? Given how poorly M:I 3 did domestically, I can't imagine Cruise resorting to Ethan Hunt for the save. Peter disagrees, but I think Cruise should follow-up his cameo in Ben Stiller's Tropic Thunder, which has great w.o.m., with another comedy. Hardy Men with Stiller needs to happen, stat. After Lions For Lambs (which cannot be blamed on The Cruise, it was a terribly marketed talk-fest war film) and Valkyrie (which clearly has identity issues), I really don't think audiences want to see this guy in another serious role.
The only way for Cruise to avoid more stabs from Perez Hilton's ilk, boisterous Scientology haters and the Net's endless celebrity career strategizers is to take aim at the very notion that it's getting to him. Showing American audiences how fast The Cruise can sprint from million-dollar missiles is not going to prove anything at this point.
As for Valkyrie's new date, I think it's actually smart. It meets expectations for the film, and while February is considered a dead zone, The Wolf Man and The Pink Panther 2 were formerly parked there. When it comes to marketing, the main thing with Valkyrie is "what in the hell is it?" At this point, it just needs to be entertaining and not accidentally hilarious. If it flops during Valentine's Day, there will be less eyes and less surprise.
Discuss: Do you think M:I 4 will happen? Would Cruise be better off following-up his Valley Nazi with Hardy Men or even Risky Business 2? Is it action film or bust at this point?