Cool Stuff: Eric Tan's Indiana Jones Poster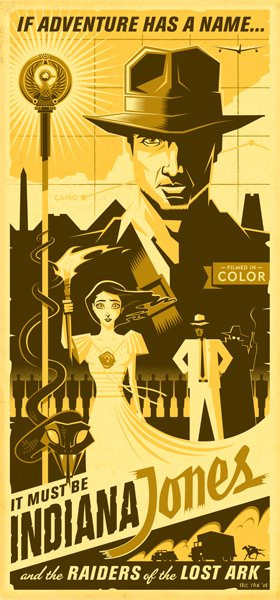 I first learned of artist Eric Tan a few months ago when he created a super cool UFA German-inspired X-Men cinema poster. Tanner was responsible for some of the awesome Incredibles concept artwork. I have fallen in love his retro propaganda-style, and was able to snap up a limited edition print of the X-Men poster thanks to my friend Frosty at Collider. So today when I learned that Tan had created a retro propaganda style Raiders of the Lost Ark poster, I flipped. I had to have it.
IndianaJonesShop is selling the new print for $150.00, which is being produced as part of a new series of limited edition fine art lithographs by Acme Archives. Rendered with a brilliant duotone look, Tan's Raiders-inspired poster beautifully emulates the propaganda poster artwork style of the Indiana Jones era and genre. The poster features "Great stylized images of Indy, Marion, Belloq, and Toht (check out the spectacles and smoking gun!), backed by classic Indy iconography — map, Staff of Ra, soldiers, etc."
"My idea here was to create something that looked as if it came out when the movie took place, circa 1936," writes artist Eric Tan. "I was heavily influenced by Mexican film posters from the 30's & 40's. They had that western/dramatic/action feel nailed down. Check out that Cine Mexicano book if you can. Them dudes sure knew what they were doing way back when."
This 10"x21" fine art giclee on paper is hand numbered and limited to just 195 pieces. I already pre-ordered mine, so there are only 194 prints left. You can check out Eric Tan's original concept sketch for the piece below... very cool.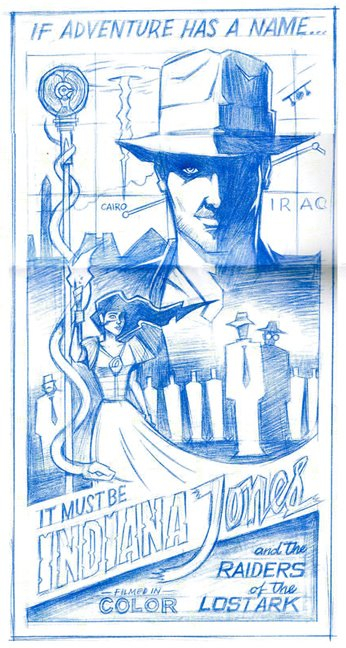 Cool Stuff is a daily feature of slashfilm.com. Know of any geekarific creations or cool products which should be featured on Cool Stuff? E-Mail us at orfilms@gmail.com.