Keanu Reeves Talks Bill And Ted's 3, Remake Of Bill And Ted's Excellent Adventure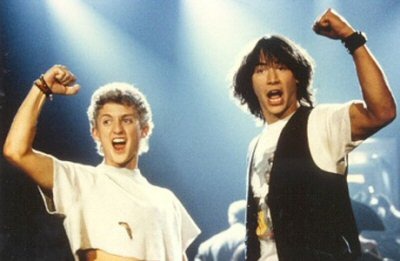 "Closer to 50!"
Remember when we reported last week that Keanu Reeves flicked his hand dismissively at the notion of all sequels? Well, we lied. Actually, the Internets lied. Sort of. Reeves talked to MTV about a second sequel to his amazing Bill and Ted's filmography following 1991's Bill and Ted's Bogus Journey, and said he remains stoked on headbanging in a phone booth with co-star Alex Winter aka Bill S. Preston, Esquire but not until they're 50. Also, there might be a bathroom stop in Bummerville because Reeves says a remake is on the horizon...
"I hear they're doing a remake," Reeves said of the movie that launched him to fame. "[Alex Winter and I spoke] on the phone the other day [about it]. We're great friends.
"The most serious we ever got was a few years ago," he confessed of a hitherto unknown third film. "I had once mentioned about doing it when we were 40. Now maybe the only shot we have is to do it when we're 50."
Winter and Reeves are both in their early 40s, which is unfortunate because another sequel could probably be a big hit and I'm all for Valley Speak making a brute force comeback to the well-quaffed ire of Jeff Wells at Hollywood Elsewhere. Which reminds my ego: I once threw a Bill and Ted's party at a log cabin in Miami complete with a phone booth stuffed with unmentionable antics and a massive UM football player dressed Socratically who dragged a keg onto the street, sat on it, batted others away, and nursed the tap like a goat teat. Wyld Stallyns, get it together and go for the trilogy, and bring William Sadler. [Belch]
Requisite Alex Winter Update: Alex Winter has directed a Big Pharma-comedy called We're Here to Help starring Alan Rickman (Hans) that is due this year. Go Winter!
Bill and Ted's Remake Update: Apparently Moviehole has gotten wind of the remake, and they report it will likely go straight-to-DVD. The gist? The "phone" is "funkier." I'm guessing this means cell phone > phone booth. (LAME.) The new Bill and Ted are 10th graders. They meet snooze-worthy historical figures like Ghandi and Calamity Jane. Remake has fewer "Whoa"'s. (LAME). "Cool and hip" references aplenty including a "we're going to miss The Dark Knight!" scene. Wyld Stallions? No, this time it's the "Atomic Gorillas." (LAME.) Worthy? The site says it mostly depends on who they cast. Bummer.
Discuss: Do you miss the "phone booth?" Who had more gnarlitude, Bill or Ted? Are these movies smartly stupid or stupidly smart?