Summer Showdown 2008: Indiana Jones And The Kingdom Of The Crystal Skull Most Anticipated Movie?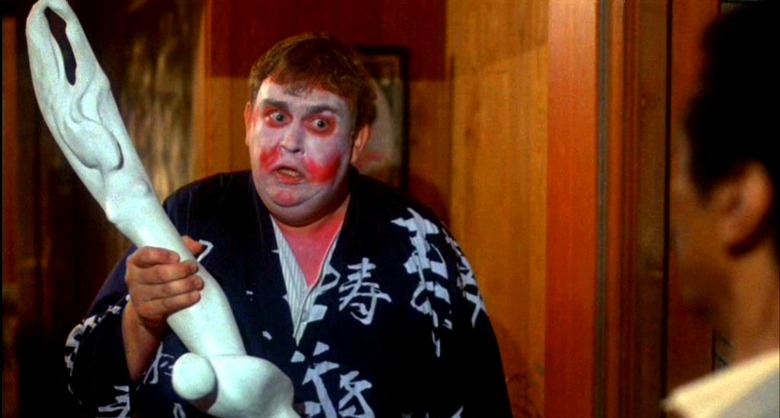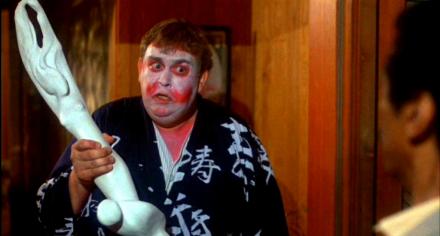 "Dude, Indiana Jones killed Batman."
Fandango, the online movie ticket provider, recently polled several thousand movie fans about their most anticipated summer movie and the site reports that May's Indiana Jones and the Kingdom of the Crystal Skull was not only numero uno (82%) but nearly doubled fan anticipation for July's The Dark Knight (42%). Snatching the bronze, was May's Iron Man, the box office performance of which has been discussed a great deal here at Slashfilm. Notably absent from the top 10? Wall-E, Don't Mess With the Zohan, Pineapple Express, Kung Fu Panda, The Happening, The Love Guru (my least anticipated, perhaps ever) and Hellboy 2...oh, and Space Chimps (umm, big hit, that one?). The fact that X Files 2 came in ahead of these flicks, in eighth place, was surprising.
Perhaps even more surprising is that Harrison Ford took first in "All-time Favorite Action Movie Star" way ahead (75%) of runner-ups Bruce Willis and Will Smith (whose Hancock didn't crack the top 10 either), and the actor further continued his sweep, with Indiana Jones squatting in a $10 lounge chair over the competition as "All-time Favorite Action Movie Character."
We've got the full rundown after the jump. It was cool to see that Heath Ledger's Joker won out a category. And no, Shia LaBeouf's hair didn't make any lists.
Discuss: Do these rankings match up with your own? Is it possible for Space Chimps to be the biggest film of the summer?
Most Anticipated Summer 2008 Movie:
1. INDIANA JONES AND THE KINGDOM OF THE CRYSTAL SKULL (82%)
2. THE DARK KNIGHT (42%)
3. IRON MAN (38%)
4. THE CHRONICLES OF NARNIA: PRINCE CASPIAN (37%)
5. THE MUMMY: TOMB OF THE DRAGON EMPORER (30%)
6. GET SMART (29%)
7. THE INCREDIBLE HULK (22%)
8. THE UNTITLED X-FILES SEQUEL (20%)
9. SPEED RACER (19%)
10. SEX AND THE CITY (19%)
Most Anticipated New Character Portrayal (Fresh Interpretation of a Familiar Role):
1. Heath Ledger as "The Joker", THE DARK KNIGHT (55%)
2. Steve Carell as "Maxwell Smart", GET SMART (34%)
3. Robert Downey, Jr. as "Tony Stark", IRON MAN (32%)
4. Edward Norton as "Bruce Banner", THE INCREDIBLE HULK (26%)
5. Anne Hathaway as "Agent 99", GET SMART (21%)
6. Ben Barnes as "Prince Caspian", THE CHRONICLES OF NARNIA: PRINCE CASPIAN (21%)
7. Angelina Jolie as " Fox", WANTED (21%)
8. Meryl Streep as "Donna", MAMMA MIA (12%)
9. Emile Hirsch as "Speed", SPEED RACER (11%)
10. James McAvoy as "Wesley Gibson", WANTED (9%)
All-Time Favorite Action Movie Character:
1. Indiana Jones (76%)
2. James Bond (51%)
3. Jason Bourne (43%)
4. Batman (40%)
5. DIE HARD's John McClane (38%)
6. Spider-Man (33%)
7. The Terminator (28%)
8. Superman (27%)
9. THE MATRIX's Neo (24%)
10. Lara Croft (24%)
All-Time Favorite Action Movie Star:
1. Harrison Ford (75%)
2. Bruce Willis (57%)
3. Will Smith (47%)
4. Mel Gibson (46%)
5. Nicolas Cage (38%)
6. Arnold Schwarzenegger (37%)
7. Clint Eastwood (37%)
8. Angelina Jolie (29%)
9. Russell Crowe (29%)
10. Samuel L. Jackson (27%)