The Weinstein Co's Lame Attempt To Appease Star Wars Fanboys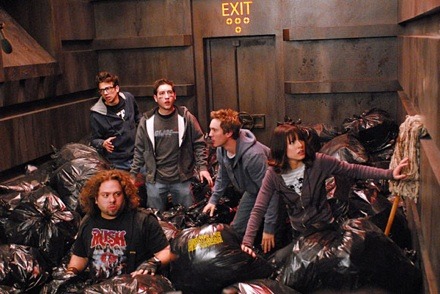 Earlier today we wrote about how Star Wars fanboys were planning on boycotting The Weinstein Co's Superhero Movie due to the way the company is handling the release of Fanboys. I just received a press release from The Weinstein Co, announcing that they would be releasing both cuts of the film on DVD "with the Company exploring options for its theatrical release." But I'm calling bullshit... this press release is well designed corporate spin, which gives the impression that the Fanboys have won, when in fact, this is not a win. The press release reads:
"Star War fans nationwide have built a multi-tiered grassroots effort to voice their strong support for one of the earlier versions of the film, including a campaign which generated over 300,000 emails in support for the film.  Based on the tremendous feedback and interest from the fans, today's announcement will ensure both versions will be equally available within the marketplace."
Sounds like a win, right? Nope, read further. A quote from Matthew Frankel, Chief Communications Officer, The Weinstein Company is also included:
"Over the last few weeks we have received a tremendous amount of input from Star Wars fans nationwide. While the later version tested very well with audiences, the grassroots support we have received for the first version simply cannot be ignored.  We are very excited to launch these two films and look forward to giving the fans the opportunity to see both versions."
Yeah, but not theatrically. The Weinstein Co still claims that the new cut "tested very well with audiences" yet everyone I've talked that has seen both cuts disagrees. Rumors had circulated the web that TWC hired plants to be in the audience for said test screening, however, this has never been confirmed.
I think Star Wars fans expected that both cuts of the film would be included on the eventual DVD. The fight was to get the first (and what I've heard, better) cut distributed theatrical, instead of the Steve Brill (Little Nicky, Drillbit Taylor) edit which completely ignores the Cancer storyline. I hope that Star Wars fanboys will continue to fight, and not let The Weinstein Co to spin this obvious non-victory to the mainstream press.  We must stop Darth Weinstein!